Glowering, unrelenting and indomitable to the end, England captain Martin Johnson retired from international rugby union on Saturday at the peak of his form and prestige.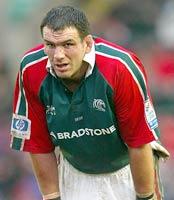 No rugby player radiated as much menace or commanded more respect than the huge Leicester lock whose last act for his country was to lead England to World Cup glory last November.
"Martin Johnson is probably the most inspiring player ever to play the game I love," said his former teammate Jeremy Guscott. "In terms of the reverence and respect in which he is held, he stands alongside Colin Meads in New Zealand."
Even Meads, with admittedly fewer opportunities, could not match Johnson's achievements.
Under Johnson, England became the first northern hemisphere country to win the World Cup. He is also the only person to lead the British and Irish Lions twice.
But apart from the roll call of honours, Johnson has been integral in a cultural shift in world rugby.
When Meads was at his peak in the 1960s, New Zealand were the most feared side in world rugby, black avengers from the South Pacific who would emerge periodically to storm the European citadels.
| | |
| --- | --- |
| | The World Cup Triumph |
| | |
England produced the occasional back of dazzling brilliance, but their forwards were regarded as a touch soft by the ruthless All Blacks.

But as Meads himself prefaces his highly entertaining anecdotes on the lunch and dinner circuit now: "How times have changed!"

Spectators at last June's Test between England and New Zealand in Wellington could have been forgiven for feeling a sense of dislocation. As the teams lined up for the national anthems, the New Zealand forwards appeared not only markedly smaller than their opponents, but also comparatively anonymous.

By contrast the England forwards, headed by Johnson and also featuring Lawrence Dallaglio and Richard Hill, looked formidable.

The psychological advantage established, Johnson and his men laid down a marker for their subsequent World Cup deeds.

Reduced to 13 men with Dallaglio and Neil Back in the sin bin, England packed six down against New Zealand's eight on their own line.

Old All Blacks looked in horror and disbelief as England not only held their opponents but repelled them, taking play out of their half.
| | |
| --- | --- |
| | Images from the World Cup |
| | |
"Journalists have since asked me repeatedly what I said to the boys, as though there were some sort of Churchillian magic I could have worked," Johnson wrote in his autobiography recently.

"Basically, it was a case of 'bend over and push'. What else could I say?"

Johnson, a hulking giant standing two metres tall and weighing 119kg, played soccer as a boy and was a devoted fan of the Liverpool Football Club.

He switched his affections to Leicester, where present England coach Clive Woodward played at centre, and gravitated inevitably to the second row.

Then, in the English spring of 1989, a letter arrived from New Zealand inviting Johnson to play for a small rural club called Tihoi. By uncanny coincidence, Tihoi is located in the King Country, Meads's old province where he is revered as something close to a deity.

New Zealand's rural life proved to be the making of Johnson as a rugby player and dispelled any illusions that the country was "full of polite, quiet people drinking lots of tea and going to bed by 10pm". Rugby, played by rugged men hardened by unremitting physical labour, was intensely physical and even at a junior level the standards were high.

Johnson impressed the great Meads and in 1990 was selected for a junior All Blacks tour of Australia, but elected to make his career back in England, returning home with his Kiwi wife Kay.

"The whole experience broadened me as a person and helped me grow up," he said. "I was returning home a lot harder mentally and physically."

Johnson made his England debut as a substitute for Wade Dooley in 1993 and was selected as a replacement for the Lions in New Zealand that same year, the first of three tours with the British side.

In 1997, Lions coach Ian McGeechan named Johnson captain for the successful tour of South Africa.

"I just liked the look of him walking down the corridor to toss up and the South Africans opening the changing room door to see who was there," recalled McGeechan. "They'd look up and see Johnno framed in the doorway and know that we meant business."

In 1999 Johnson took over from Lawrence Dallaglio as England captain and has remained in charge since.

Johnson was unmatched at number two in the lineout, fiercely committed in the tight and relentless in the loose. He saved his best for the big occasion and his display in the World Cup final was possibly the finest of his career.

From the start, Johnson was skilled at the dark arts of the game and served several suspensions for foul play. Like Meads, he remains unrepentant.

"Neanderthal. A glowering thug. The Terminator in shorts. And that's just my wife's opinion," he wrote.

"Sometimes you have to laugh. Professional rugby is a hard game of physical confrontation and everyone who takes part knows that."