Brazil and Real Madrid striker Ronaldo has split up with fiancee Daniella Cicarelli less than three months after the couple threw a lavish engagement party at a secluded castle outside Paris.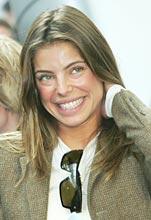 "The footballer Ronaldo and the television presenter Daniella Cicarelli officially inform that they are separating and they reserve the right not to give any more details about the episode," said a statement issued by a spokesman for Cicarelli.
The couple threw the party, which cost an estimated 700,000 euros ($899,200), near Chantilly on February 14.
Although it was billed as a wedding, Ronaldo could not marry 23-year-old
Cicarelli because he had not been divorced for a full year from his first wife, Milene Domingues.
Ronaldo and Domingues were married in 1999 and have a child named Ronald.
Also read:
Ronaldo gives fiancee lavish party
Ronaldo to marry new girlfriend
Coach angered by Ronaldo 'wedding' distraction