Real Madrid has been reportedly shocked by their superstar Cristiano Ronaldo's demand of a whopping £32 million-a-year deal to stop him from returning back to Manchester United.
Although the Spanish giants are adamant that Ronaldo will not be leaving them this summer and are now trying to agree a deal to keep their Portuguese idol for the rest of his career, Ronaldo is determined to cash in on his iconic status and is looking for a mega deal to make him the highest-paid footballer in history, The Sun reports.
The Portuguese forward, who is considering his options at the Bernabeu and knows that United will welcome him back with open arms, reportedly wants an annual wage of £17 million from Madrid, plus 100 per cent of his image rights contract from the club, which could be worth as much as £15 million per year.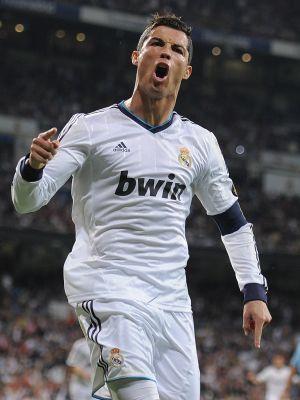 Stating that even a club as rich as Real Madrid has been shocked by the figures being bandied around by Ronaldo's representatives, the report further said that the club fears that the figures are just the player's opening scheme in a probable long, complicated contract negotiations.
However, Real president Florentino Perez has said that he believed that there is plenty of time to haggle over a new deal with Ronaldo before they think about selling him as Ronaldo, who cost Real a world record £80 million when they signed him from United in 2009, still has two years of his current £200,000 a week contract at Real.
But sources close to Ronaldo have indicated the player's demands are not motivated by greed but his determination to prove himself to be the biggest star in the world.
According to the report, although Ronaldo is determined to top Barcelona rival Lionel Messi's £14 million yearly wages, but Real is unlikely to agree to those terms and will look to strike a compromise deal with a player who has scored 201 goals in four seasons at the Bernabeu.
United still refuse to rule out the prospect of tempting Ronaldo back to the Premier League but would have to smash their wage structure to even come close to matching his terms, the report added.
Photograph: Denis Doyle/Getty Images