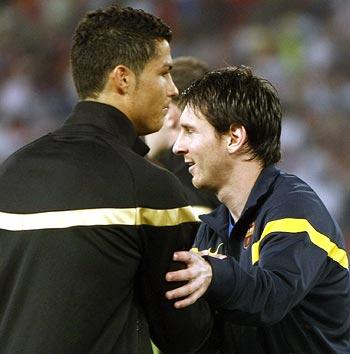 Cristiano Ronaldo and Lionel Messi have lit up Spanish Primera Liga with a slew of goals this season and the title race is already shaping up as a duel between Real Madrid and Barcelona.
The Portuguese winger, who cost Real a world record 94 million euros ($138 million) in the close season, and the zippy Argentina forward, who joined Barca's youth program at the age of 13, both have five goals already this term.
Barca and Real lead the standings on 12 points with four matches played, three ahead of Sevilla and Athletic Bilbao, with Real hosting promoted Tenerife and Barca at Malaga on Saturday.
"I am feeling confident," Messi, who signed an improved deal last week that will reportedly earn him 10.5 million euros net a season, told a news conference on Wednesday.
"I have the good fortune to play alongside colleagues who are very good at football and that gives me peace of mind."
Ronaldo pipped Messi to the 2008 World Player of the Year award but Messi is widely tipped to win the 2009 crown thanks to his performances in last season's historic treble.
Ironically the pair have been unable to prevent Portugal and Argentina from struggling in qualification for the 2010 World Cup and there is a real possibility both will miss out.
"I would like to perform well for Argentina the way I perform well here at Barca," Messi said.
Barca's big signing of the summer, Zlatan Ibrahimovic, has also had an impact following his move from Inter Milan, making the best ever start by a new signing for the Catalan club.
ANKLE SPRAIN
The Sweden striker has netted once in each of Barca's four matches but suffered a minor ankle sprain in Tuesday's 4-1 win at Racing Santander and is a doubt for the Malaga clash.
At the other end of the table, poor starts for Atletico Madrid and Villarreal have prompted speculation in the Spanish media about the futures of Atletico coach Abel Resino and his Villarreal counterpart Ernesto Valverde.
Both have just two points from their four matches and Resino has been given a particularly hard time by the Atletico fans, who are also upset with the way president Enrique Cerezo and chief executive Miguel Angel Gil are running the club.
"It would be wrong to make anyone a sacrificial lamb," Almeria coach Hugo Sanchez said on Wednesday after his side snatched a late equaliser to draw 2-2 at Atletico.
"Everyone must share the responsibility for what is happening at a club," added the Mexican, a former striker for Real Madrid and Atletico.
Atletico face a difficult trip to Valencia on Saturday while Villarreal play at Deportivo Coruna on Sunday.
Sevilla and Athletic play each other in Bilbao on Saturday while promoted Xerez seek their first point in the top flight on Sunday at Espanyol.