Manchester United footballer Cristiano Ronaldo has been released on bail on Wednesday night after being interviewed by police over an allegation of rape.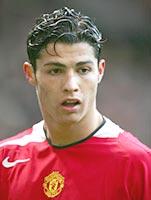 A Scotland Yard spokesman said: "The man in his 20s has been bailed pending further inquiries to return at a future date."
The 20-year-old Portuguese international went voluntarily to a police station in Manchester with his lawyer to attend an appointment with detectives.
In a statement, his agent Jorge Mendes, said Ronaldo voluntarily went to the police for questioning and denied any wrongdoing.
"The accusation of rape that has been made against Cristiano Ronaldo is totally and categorically repudiated," read the statement on Mendes' Web site.
"As the investigations will demonstrate, these charges are not based on any credible facts."
Ronaldo told officers he was completely innocent and has told friends he is the victim of a "stitch-up".
Police did not confirm the player's identity. A spokesman said a man in his 20's was arrested on suspicion of rape in connection with allegations of a serious sexual assault on Oct 2.
A spokesman for the London police, who are leading the investigation, later said the man had been released on bail on Wednesday evening pending further inquiries. Police gave no more details.
United's assistant coach Carlos Queiroz confirmed that the man was the 20-year-old winger, but said the accusations had no basis and Ronaldo was merely answering police questions.
"He went to make a statement as was planned. Based on those statements, the authorities are going to reach fair and correct conclusions," Queiroz told Portugal's SIC TV.
Police said they had also questioned a man in his 30's, who was not arrested. An arrest in Britain does not necessarily mean charges will be filed.
Police said the two men had come to a police station by appointment as part of the investigation. They did not disclose where the questioning took place.
Manchester United's director of communications Phil Townsend said the club would not comment on the case.
Ronaldo has proved a success at United since he signed from Sporting Lisbon in August 2003 when he was saddled with the task of replacing England captain David Beckham at Old Trafford.
He helped hosts Portugal reach the final of Euro 2004, scoring in the semi-final victory over the Netherlands, and was one of his country's most consistent performers throughout their successful bid to reach the 2006 World Cup.