Rebecca Romero became the first British woman to win medals in two different summer Olympic sports when she beat her team mate to win gold in the women's 3-km individual pursuit cycling on Sunday.
Wendy Houvenaghel took silver to make it a one-two victory for Britain. Lesya Kalitovska of Ukraine took the bronze after beating Alison Shanks of New Zealand.
A rowing silver medallist in Athens in the quadruple sculls, Romero switched sports and made her track cycling debut only two years ago. She won two world championship titles in March.
Romero dominated the head-to-head race against Houvenaghel from the beginning, reaching a speed of nearly 52 km per hour over the 12 lap race.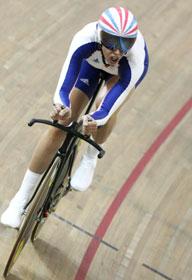 Shortly before Romero's golden ride, her former rowing team-mates were beaten by China for the gold medal in the women's quadruple sculls. In contrast to Romero's victory lap, her former team mates sat slumped in their boat after losing out to China.
Cycling coach Shane Sutton said Houvenaghel has been a strong performer in practice though she had a hard time delivering in big events.
"From the time she did in practice we knew she would be in the top two," he said. "She's been around a long time. She never did too well in big events."