Tami Heaton has a cracked rib, Karin Bruce has a bruised lip and Natily Blair has a newly healed broken arm. And they could not be prouder.
Sophisticated professionals by day, these New York women are hoping to revive the none too sophisticated sport of roller derby by night.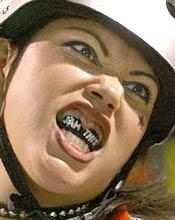 In an old skating rink deep in a bleak South Bronx neighbourhood, New York's nascent roller derby teams vie to outskate one another with a raucous mix of skill, fearlessness and aggression, not to mention fishnet stockings, plenty of black eyeliner and more than a few tattoos.
"You have your day job world where you do your thing, and then at night you go and you beat people up," said Heaton, a 32-year-old Manhattan website manager in pigtails and glitter eye shadow. Her roller derby alter ego, emblazoned on the back of her mini-skirted team uniform, is Sybil Disobedience.
With teammates such as Baby Ruthless and Venus Demolish, the skaters spread across the width of the oval track. Scantily clad but armed with helmets, mouthguards, knee pads and elbow pads to blunt the impact of the wooden floor, they try to block the opposing team's designated scorer, or jammer, who earns a point each time she passes an opposing team player.
Body blocks and elbow jabs are legal, tripping and fighting are not. Falling down is unavoidable.
POPULAR ENTERTAINMENT
With no official rules, the two male referees -- one a team member's husband, the other a boyfriend -- try to keep order in what they freely admit can be oestrogen-laden chaos.
"My butt looks like a chocolate chip cookie with all of the bruises on it. It's disgusting," said Blair, an actress by trade who using the skating moniker Ginger Snap. "But I still do it. It's therapeutic. And skating around in fishnets and beating up
other chicks is fun."
Hoping to excite a New York audience, the all-female teams take their cues from campy old-time roller derby events that emerged as popular and inexpensive entertainment in the Depression-scarred 1930s.
Many Americans still recall the staged roller derby bouts televised in the 1970s with gangs of tough women whipping around a banked indoor track, hurling insults and shoving one another over the rails in a precursor to contemporary professional wrestling.
Organisers of today's women's roller derbies, which include newly formed teams around the nation in Austin, Texas, San Francisco, Las Vegas and Seattle, describe the sport as "empowering" and "post-feminist" -- phrases probably not widely used to describe roller derby at its inception.
HONEST VIOLENCE
Politics aside, it is a crowd pleaser.
"It's fantastic. It's good to see a sport that's honest about beating each other up," said Chris Reid, 23, who works in corporate real estate in Manhattan, sitting ringside for a recent bout. "Football is the same thing, except it's not honest about it."
"So a couple of people get knocked over," added Doug Miller, 23, a Manhattan paralegal also in the audience. "It's no worse than going out dancing on a Friday night.
As the crowd applauded and whistled, a pack of cheerleaders shrieked: "I want to see blood." The teams skated around the track in threatening crouched poses and made obscene gestures at onlookers.
Roller derby is as much attitude as aptitude, the women say.
"You can't be afraid to fall, and you can't be afraid to get in and throw some elbows," said Heaton. "And you can't say you're sorry. There is no sorry in roller derby."
Despite the brawls and falls, some audience members wanted more. Liz Abbott, a New York clothes designer, complained that modern-day roller derby was a mere shadow of its earlier self.
"It could be more violent," she rued. "But what the hell. It's something else to do aside from going to a bar on a Friday night."
Her suggestion? "Add liquor," she said.