Roger Federer showed glimpses of his brilliant best when he saw off Austrian Juergen Melzer 6-1, 7-6 on Friday to reach the Paris Masters semi-finals for the first time in his career.
It was also a good day for the French as unseeded Michael Llodra outfoxed Russian Nikolay Davydenko 7-5, 6-1 and 12th seed Gael Monfils knocked out number three Andy Murray 6-2, 2-6, 6-3.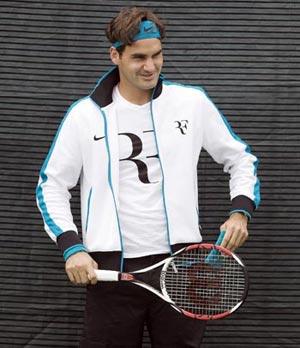 Top seed Federer lost just three points on his serve in a 20-minute opening set, starting with an ace and following up with 17 more unanswered serves as he lined up a clash with Monfils.
Melzer read his opponent's serve better in the second set but made a big mistake in the tiebreak.
At 4-4 he netted an easy volley and Federer wrapped up victory with an ace and a service winner on the super-fast Bercy sports hall court.
"I can't say it's a relief to be in the last four but I'm happy," Federer told reporters.
"I played a wonderful first set, being aggressive on the returns, serving really good. It was a perfect set."
Monfils also leaned on his big serve and a few inspired passing shots to prevail against Murray.
The Briton, who had finished his match with Croatian Marin Cilic late on Thursday night, now heads to London for the end-of-season ATP Finals which start on Nov. 21.
"I'm going to chill out for a few days ... and then try to get my body right for London," said Murray.
"When you get to bed at 3am the night before a match it's not ideal preparation."
Backed by a loud partisan crowd, Monfils broke early in the first set and looked set for a straightforward win but Murray returned serve much better in the second.
Monfils then broke in the sixth game of the decider and bagged the win with a superb crosscourt passing shot.
SURPRISE WIN
Llodra followed his surprise win over Novak Djokovic by defeating Davydenko and next faces fourth seed Robin Soderling of Sweden who edged past Andy Roddick 7-5, 6-4.
The unseeded Llodra produced another fine display of attacking tennis to counter the 10th seed's pace from the baseline.
"It was not easy to confirm my victory against Djokovic (with another win). But I did not want it to end there," said Llodra.
"It will be tough against Soderling because he is a great indoor player and he is full of confidence."
The usually ice-cool Davydenko toyed with the crowd, raising his arm to a Mexican wave.
Llodra however peppered the court with serve and volley winners to set up a meeting with Soderling, a player he beat in their two previous encounters.
"I think he beat me once on the Wii," Llodra joked.
Soderling used his devastating forehand to down Roddick who was on the back foot throughout.
The Swede converted his fifth break chance, in the 11th game, to seize the opening set. The twice French Open runner-up then broke again early in the second before ending the contest with his 18th ace.
Roddick now heads to London after officials asked the players to be on site for the ATP Finals as early as Wednesday.
"It doesn't leave much time for me to get home and back now, does it?," said the American. "Apparently we are available for you people (the media) for five days.
"If you ask nicely we'll be around. We can do coffee or something," Roddick added with a smile.