It is not often that Ronaldinho, Ronaldo, Zinedine Zidane, David Beckham and Samuel Eto'o find themselves in danger of being relegated to the role of supporting actors in a major football match.
It might just happen in Saturday's "clasico" between Real Madrid and Barcelona.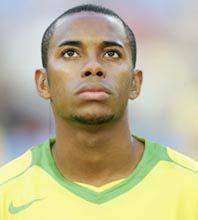 The Bernabeu game should give Barca's teenage Argentine Lionel Messi the chance to pit his skills against Real's Brazilian wizard Robinho -- the new Maradona versus the new Pele.
Although the two players are tipped to set next year's World Cup alight with their skill, speed and youthful bravado, they have experienced some unexpected pitfalls in their first full season in the Spanish Primera Liga.
Brazil international Robinho was hailed as the player who would guarantee the return of spectacle and entertainment to the Bernabeu when he arrived at Real after a long transfer saga in late August.
The 21-year-old lived up to expectations when he paraded his dazzling array of ball skills to some 8,000 ecstatic fans gathered at the Real Madrid stadium to see him unveiled to the media.
His league debut was no less impressive -- stepping on to the pitch midway through the second half with his new side hanging on to a 1-1 draw at newly promoted Cadiz, he revolutionised the Real attack with his pace and dazzling close control before helping to set up the winner.
No sooner had the Real fans started to drool at the skills of their new signing than his star began to wane.
Real slipped to three successive defeats, defenders appeared to wise up to the Brazilian's dizzying step-over routine and Robinho was relegated to the bench.
FADING CONFIDENCE
His confidence faded as he admitted that adjusting to European football had not been easy.
"It's been tough because it has been a very big change and I've barely had time to get to know what has been a completely new world for me," said the former Santos idol.
Some of the crueller critics began comparing him to fellow countryman Denilson, who joined Real Betis as the world's most expensive player in 1998 but fizzled out into one of the most costly flops in footballing history.
Real, however, are determined to protect and nurture their investment and the young Brazilian is beginning to show sparks of brilliance once again.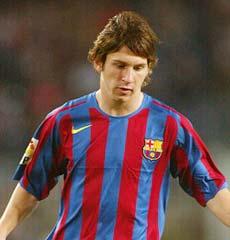 Messi, unlike Robinho, has ample experience of European football.
The Argentine joined Barcelona as a 13-year-old in 2000 and went on to star in the youth ranks at the club with his 31 goals in 38 games persuading Frank Rijkaard to give him his senior debut in a friendly against Oporto in November 2003 at the age of 16.
Last season he appeared in the Champions League and became the youngest-ever player to score for the first team when he clipped a delightful lob into the net in the last minute in the 2-0 win against Albacete.
In June, he led Argentina to triumph in the World Youth Championship in the Netherlands, scoring two penalties in his side's 2-1 victory over Nigeria in the final, and like Maradona before him, ended the tournament with the trophies for best player and top scorer.
He was rewarded with a call-up for the full national squad for a friendly in August against Hungary, the same opponents that Maradona faced on his debut as a 16-year-old.
NIGHTMARE DEBUT
The dream turned into a nightmare when he was sent off less than a minute after stepping on to the pitch as a substitute after he was adjudged to have elbowed a defender who had pulled his shirt.
When the rest of the team returned to the dressing room after the 2-1 victory they found Messi crying in the corner.
A stunning performance for Barcelona in a pre-season friendly against Juventus at the Nou Camp soon dispelled the gloom and prompted the Italian side's coach Fabio Capello to comment: "I've never seen a player of his age with such quality."
Messi's season ground to a premature halt, however, when it became clear that confusion over eligibility rules jeopardised his chances of playing in the league.
Each Spanish Primera Liga club is allowed a maximum of three non-European Union players in their squad. Barcelona had already filled their quota with Ronaldinho, Eto'o and Rafael Marquez.
They had hoped that Messi would not count as a foreigner because he had come up through the club's youth ranks, but the lack of a definitive ruling on the matter persuaded them to leave the player on the sidelines.
An application for dual Spanish citizenship was rushed through and he was eventually freed to play at the start of October.
The dispute rumbles on, however, as several other clubs and the Spanish Football League say Messi should not be permitted to play until January when the registration period opens again.
Messi has been in scintillating form every time he has appeared on the pitch this season. He has struck up an almost telepathic understanding with Ronaldinho and his pace, close control and direct running have created havoc among opposition defences.
Fans of both sides are praying that the bureaucratic wrangling will not deprive them of the chance to see two of the most exciting young players in world football go head-to-head on Saturday.