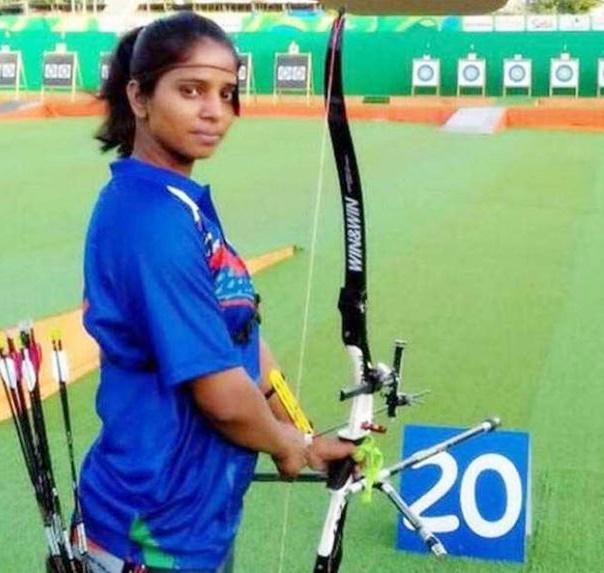 IMAGE: Acher Pooja. Photograph: Twitter.
Indian archer Pooja finished the ranking round at the 29th spot with a total of 513 points in the Recurve archery event of the Paralympics Games on Saturday.
Pooja started the event with a total of 47 points from her first six arrows as she scored 9, 8,8, 8, 7 and 7.
In the second set the Indian improved her performance as she added another 50 points to her score after getting scores of 10, 9, 8, 8, 8 and 7 points.
But the third series saw a below-par performance as she scored only 43 points with 9, 8, 8, 7, 6 and 5 points. She scored another disappointing 45 points from her fourth series as she scored 9, 9, 7, 7, 7 and 6 points.
In the fifth and sixth series, she only managed to score 41 points with scores of 9, 7, 7, 7, 6 and 5 in the fifth series and 9, 8, 8, 7, 6 and 6 points in her sixth series respectively.
Shooter Naresh ends 44th
Indian shooter Naresh Kumar Sharma could not make the final after he was knocked out in the qualification round of the mixed 10 metre air rifle prone shooting event of the Paralympic Games.
Sharma finished the event at the 44th position after aggregating 606.5 in the qualifying round at the Olympic Shooting Centre.
He started the round by scoring only 100.6 points from his first of the four series. In the second series, he could not improve his performance as he shot 101.9 points that got his total up to 202.5 points at the completion of the first two series.
Virtually out of the competition after a below-par performance in the first two series, Naresh could only manage a meagre 98.6 and 101.4 points from his third and fourth series respectively.