French police investigating a prostitution network questioned football stars Franck Ribery and Karim Benzema in custody on Tuesday about the alleged soliciting of sex with a minor, police said.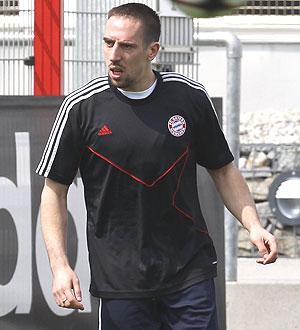 The police had postponed the hearings at the headquarters of the Paris vice squad until after the World Cup, in which Ribery, a winger for Bayern Munich, was part of France's disastrous campaign.
Ribery was France's most popular player before the World Cup fiasco, in which France were eliminated in the first round without winning a match, and he took part in a revolt by players who boycotted a training session before their final game.
French media have suggested the players were clients of a nightclub in Paris's posh Champs-Elysees district that allegedly featured escorts, including the under-18 girl at the centre of the affair.
Ribery was questioned in April about his ties with the boss of an escort girls' network, according to his lawyer. The player himself has made no comment about the affair.
Real Madrid striker Benzema's agent has previously told Reuters his client had never been to that nightclub, and the player himself told French television he had done nothing wrong.
The scandal, which gripped France ahead of the World Cup, took a new twist in late April when the young woman at the centre of the case gave a lengthy interview to Paris Match magazine, implicating several footballers and denying being a prostitute.
France striker Sidney Govou, who has just moved from Lyon to Panathinaikos of Greece, was also questioned by police in April about the incident.