It was a forgettable Malaysian Grand Prix race for Sahara Force India as Adrian Sutil and Paul di Resta failed to complete the race due to wheel nut problems, in Sepang on Sunday.
-PHOTOS: Vettel seals controversial Malaysia win
-Vettel storms to victory in Malaysian GP thriller
The poor qualifying spilled to the race day as Sutil was in the race for 27 laps while di Resta retired after 22 laps as both the drivers were troubled by wheel nut issues.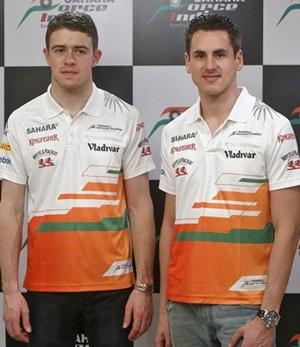 To save the cars from serious damage, the team chose to retire both the machines.
Defending champion Sebastian Vettel won the race ahead of his Red Bull teammate Mark Webber.
Sutil chose to be optimist, saying it's early time in the season and they have plenty of time to recover from the disappointing result.
"We're not sure exactly what happened yet so the team stopped the cars to make sure we understand the issue. It's a shame that this happened here because we had a very quick car today and I felt very comfortable as the track dried out. We have to stay positive, keep our heads up and remember that there are plenty of races left where we can make up for the disappointment of today," the German said.
Di Resta said the pace of the car was good but it made sense to retire the car to avoid damage.
"We saw an issue at Adrian's first pit stop when I was sat behind him, which cost me about 15 seconds, and then I had the same issue with the wheel nut at my second pit stop. As a precaution the team chose
"The good news is that we have the performance in the car, but this is definitely a missed opportunity because we had the potential to score a lot of points today. We will go away, take this on the chin, and come back fighting in China," Di Resta added.
Team Principal Vijay Mallya was naturally disappointed.
"Unfortunately things went wrong in the pits when we experienced an issue with our captive wheel nut system at the first stop, which resulted in major delays for both cars. The issue occurred again at the second stop and it became apparent we would not be able to solve it during the race.
"It's frustrating, but sometimes these things happen in racing. We will take the positives of the strong car performance and look to put things right next time out in China," he said.
Photograph: Vivek Prakash/Reuters