A double bogey threatened to spoil his card but Rashid Khan made a superb recovery as he scored a three-under 69 to lead the field by four strokes at the halfway stage of the SAIL-SBI Open at the Delhi Golf Course.
The 23-year-old Indian, who launched his full Asian tour season with a sizzling career-best 11-under 61, found the going tough today after starting from backnine as he treaded three birdies and an eagle with a double bogey in the second round to aggregate 14-under 130.
Bangladesh's Siddikur Rahman, Australia's Unho Park and Sri Lanka's Mithun Perera shared the second spot with a two-day total of 10-under 134.
Siddikur was en epitome of consistency as he fired a consecutive five-under 67 while Park blasted a seven-under 65 to go with his 69 on day one. Mithun came up with a four-under 68 to lie four strokes behind Rashid.
But the star of the day was Martin Rominger of Switzerland who fired a scintillating nine-under 63 to lie at the fifth spot. He had scored 72 in the first round.
Two-time defending champion Anirban Lahiri put behind Wednesday's disappointment and brought home a six-under 66 to be tied sixth along with Digvijay Singh, who scored a successive 68.
India's SSP Chowrasia (69), Scott Barr (70) of Australia and Japan's Akinori Tani (71) were tied eighth with a total of seven-under.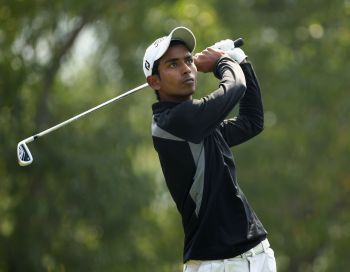 Playing on his home course, Rashid picked up a birdie at the 16th hole but miscued a tee shot at the 17th hole and he ended up dropping a double bogey.
However, the Delhi golfer recovered in style as he sank a 25-feet putt for an eagle on the first hole and then picked up strokes at the seventh and ninth to stay ahead by four strokes.
"My hitting was not accurate today. I could not hit the ball close to the pin like I was doing yesterday. I had a terrible double bogey on 17. I had a wrong club selection and hit it over the green and made double," Rashid said.
A 10th tee starter, Siddikur picked a couple of strokes at 14th and 18th hole but he dropped a shot at 16th for the second time which meant, he made the turn at one-under.
However, the Bangladeshi golfer made birdies at the first, fourth, seventh and eighth to end the day on a high.
Park, on the other hand, had a flawless round as he picked up as many as seven birdies at the second, fifth, sixth, seventh, 12th, 14th and 15th holes.
Lahiri too turned in a blemish-free round as he the Indian gained three strokes on each side of the turn. Starting at back nine, the Bangalore golfer sank a birdie at 10th and then sank a 25-feet birdie putt at 14th. At the 17th hole, his tee shot landed just four-feet away from the pin and he easily birdied it.
On the front nine, Lahiri also picked up strokes at first, third and eighth hole, the longest putt being the 30 -feet putt at the 3rd.
"I happy with my round today. I played much better today. Eight under after two days is good score but it all depends on how the leader plays," he said.
"The wind was blowing in opposite direction and I had to make some adjustments but it helped me. I had to score a low round and I am happy I could."
Image: Rashid Khan
Photograph: Ian Walton/Getty Images