Rafael Nadal raised the temperature at the ATP World Tour Finals in London, on Friday with a fiery defeat of Tomas Berdych and a rare flash of temper as a heavyweight semi-final line-up was completed.
The world number one looked unstoppable as he battered Berdych 7-6, 6-1 to set up last four clash with home favourite Andy Murray before Novak Djokovic crushed a jaded Andy Roddick 6-2, 6-3 in the final Group A action to book a meeting with Roger Federer.
Unlike last year when the event made its debut at the cavernous O2 Arena and virtually every match went the distance, this time there has been just one three-setter in the 12 matches so far, although Nadal's performances have stood out and not just because of the shocking pink shirt he has chosen to wear.
The 24-year-old spin king and the burly Berdych waged baseline warfare during a compelling 70-minute first set on Friday -- proof that after an 11-month slog and three Grand Slam titles Nadal's insatiable appetite for a scrap remains intact.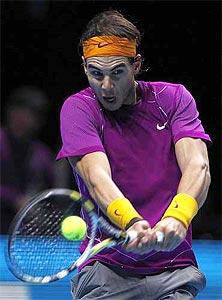 Just ask umpire Carlos Bernardes.
At 5-6, 15-15 Nadal blew his top when Berdych was awarded the point after the Czech successfully challenged an overrule by the Brazilian chair official, who deemed a backhand by the sixth seed had landed long.
When the Hawkeye video screen revealed the shot had kissed the baseline and the umpire awarded the point to Berdych, Nadal stormed to the chair and had a heated debate with the umpire and tournament supervisor Tom Barnes before returning to take out his rage on his opponent. He lost just one more game.
"He was wrong," Nadal pleaded later when calm had been restored. "That's something unbelievable. I was just asking Carlos what's happening. That's all."
Berdych stirred the pot when he accused the umpire of being "scared" of Nadal.
"It just shows how the referee is probably scared of him and just let him talk with him too long," Berdych, who lost to Nadal in the Wimbledon final, told reporters.
"I was waiting while he was talking for like three minutes. He was like sitting there and he's not going to play. It's not the mistake of Rafa. It's the mistake of the referee. He just needed to show him that it's not like he can do whatever he wants on the court."
MIND GAMES
With Nadal and Federer, the only players here to win all three round-robin matches, in sublime form it would be fitting if they met in Sunday's final when a $1.6 million jackpot could be up for grabs.
Murray and Djokovic will have other ideas even if the Briton appeared to have written off his chances after qualifying on Thursday. Nadal was not buying the mind games though.
"My only chance to win is play my best tennis and wait and hope Andy doesn't play his highest level," Nadal said after protesting his innocence over the controversy against Berdych. "The pressure is back on him now."
While the day's early action bristled with intensity and contained the best tennis of the week, the evening clash between Djokovic and Roddick was memorable mainly for the Serb walking on to court wearing a comedy eye patch.
Djokovic was struck by contact lens problems during his defeat by Nadal on Wednesday but after revealing his well-known sense of humour he got down to business and put Roddick out of his misery in 65 minutes.
"I got together with my team and glued my lenses in tonight," the 23-year-old joked on court when the interviewer asked him about his pirate's patch.
On a more serious note he said he was locking horns with Federer. "It's a great achievement that I already reached the semi-final and I will try to give my best tomorrow night.
"It's going to come down to maybe a couple of points."
The doubles semi-finals are also finalised with American world number one pair Bob and Mike Bryan taking on Daniel Nestor and Nenad Zimonjic and Poles Mariusz Fyrstenberg and Marcin Matkowski up against Max Mirnyi and Mahesh Bhupathi.