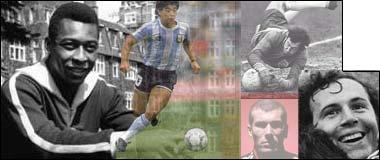 Who is the world's greatest footballer?
6. Bobby Charlton (England)
Position: Midfielder
World Cups: 1962, 1966 (winner), 1970
Charlton was one of the survivors of the 1958 Munich air crash that killed many of his Manchester United team mates and went on to become England's greatest player ever. An attacking midfielder, he was capable of unleashing a deadly shot with minimum preparation which fetched him 49 goals.
If England won the World Cup in 1966, it was mainly because of his tireless efforts. In the semi-final he scored twice to dash Portugal's hopes. In the final, watching Charlton move was like watching poetry in motion. He sliced through the German defence with sublime ease as England eked out a 4-2 victory in extra-time.
7. Zinedine Zidane (France)
Position: Midfielder
World Cups: 1998 (winner), 2002
If there was ever an artist on the football field, it has to be this creative genius from France. A playmaker and goalscorer of sublime ability, Zidane's dribbling skills and deft touch place him at a level which most top flight footballers can only dream.
Zizou, as he is affectionately known, became the toast of the 1998 World Cup when he scored two goals in the final against Brazil. Since then he has gone from strength to strength and was crowned FIFA's Player of the Year 2003.
8. Michel Platini (France)
Position: Midfielder
World Cups: 1978, 1982 (4th), 1986 (3rd)
The current generation of French World Cup players have been inspired by Platini's exploits on the world stage.
As French captain, Platini led his country to the World Cup semi-final in 1982 and 1986. As a player, he was technically brilliant and deadly in front of goal. As captain, he was simply inspirational.
His name will always be taken in the same breath as Johan Cruyff, Pele and Franz Beckenbauer.
9. Franz Beckenbauer (West Germany)
Position: Defender/Midfielder
World Cups: 1966 (2nd), 1970 (4th), 1974 (winner)
'Der Kaiser' is the only man to win the World Cup as captain and coach. Beckenbauer had already graced two tournaments before he led West Germany to World Cup success.
An tactically astute player, Beckenbauer is widely regarded as the inventor of the 'libero' role. He would take up position behind the defence as a sweeper. Then, when the opportunity presented itself, he would burst through the midfield to direct play further up. His deft one-twos with Gerd Mueller saw the latter score many goals.
10. Garrincha (Manuel Francisco dos Santos) (Brazil)
Position: Midfielder
World Cups: 1958 (winner), 1962 (winner), 1966
One of the game's greatest wingers and a star of Brazil's World Cup-wining sides in 1958 and 1962, Garrincha might never have played the game. As a child his legs were so badly twisted that he underwent surgery just to allow him to walk.
A champion dribbler, he could run circles around the opponent's defence much to the crowd's delight. This ability endeared him to the Brazilian crowds, who would turn up in large numbers to watch him play.
His right leg was six centimetres shorter than his left, but that did not prevent him from packing a mean punch in his kicks.
He passed away in 1983.