A blonde socialite has been questioned by detectives over her relationship with Paralympic star Oscar Pistorius, who has been accused of murder.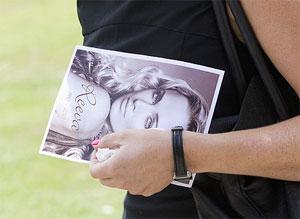 Erin Stear, 25, gave a statement to police, who questioned her about her meetings and flirty text exchanges with Pistorius.
The London 2012 Paralympic star is on bail accused of murdering model girlfriend Reeva Steenkamp, 29, at his home in South Africa. Pistorius said he shot her after mistaking her for an intruder and has told of his deep love for his girlfriend.
But detectives are investigating claims that he canoodled with Erin at a party in Cape Town and met up with her behind Reeva's back.
It is believed Erin denied having an affair with Pistorius, although her sworn affidavit will now become part of the murder investigation, the report said.
Erin, a junior PR executive, has posted a series of tweets in support of Pistorius. She is one of several female friends of Pistorius being investigated by police, it added.
Photograph: Reuters