UEFA president Michel Platini is not losing sleep over whether to bid for the presidency of FIFA in two years' time, he said on Friday.
The Frenchman added that the ball was in FIFA's court concerning the 2022 World Cup in Qatar after UEFA's 54 member federations agreed this week that the tournament should not be played in June-July because of the heat.
FIFA president Sepp Blatter is in his fourth mandate, which runs until 2015, and the Platini, long seen as a natural successor, said on Tuesday that he would not take a decision until next year's World Cup at the earliest.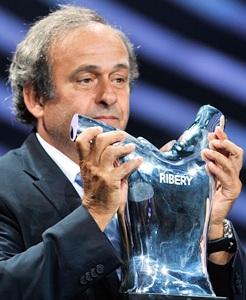 "It's not something which keeps me awake at night, it doesn't worry me," Platini told a news conference in Dubrovnik following a UEFA executive committee meeting.
"I'm very happy and relaxed at UEFA, I feel very at home here.
"I know what some would like me to do, I know what my friends would have me do, I know some journalists would like me to do certain things, and I told them I would take my decision during or after the World Cup," he said.
Blatter, 77, initially said he would not seek a fifth term, although more recently has hinted that he would change his mind if he did not feel there was a suitable candidate to replace him.
Platini, who has backed suggestions that the 2022 World Cup should be played in winter, said he did not have much to add to the matter, which will be discussed by FIFA's executive committee in October.
"We agree in principle (on the move) and...it's hard to discuss," he said.
"I think that now the ball is in the court of the President of FIFA, that is crystal clear today, the rest is mere speculation.
"I'm sure FIFA will bring together all the stakeholders of football, including commercial partners, to see what to do."
Image: UEFA President Michel Platini
Photograph: Harold Cunningham/Getty Images