South African Olympic and Paralympic athletics star Oscar Pistorius will appear in court on Friday after being charged with murdering his girlfriend, a spokesman for the National Prosecuting Authority said on Thursday.
- Pistorius charged with murdering girlfriend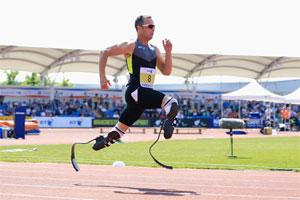 - Rise and fall of 'Blade Runner' Oscar Pistorius
Pistorius, known as the 'Blade Runner' for his racing prosthetics, was charged on Thursday with murdering his girlfriend at his home in Pretoria.
Police said they had opened a murder case after a 30-year-old woman was found shot dead at the scene in the upmarket Silverlakes gated community on the outskirts of the capital.
In a fresh development, police are set to oppose bail for Oscar Pistorius when he appears in a Pretoria court on Thursday in connection with the fatal shooting of a woman at his home, news24.com reported.