Rafa Nadal, the world's top-ranked tennis player, said Seve Ballesteros was one of Spain's finest sportsmen and described his compatriot as a "pioneer".
Nadal offered his tribute after Ballesteros died on Saturday morning at the age of 54.
"It's a sad day for Spain and the world of sport in general," the tennis great told reporters after beating long-time rival Roger Federer 5-7, 6-1, 6-3 in the Madrid Masters semi-finals.
"He was one of the best golfers of all time and one of the best athletes this country has produced. He was a pioneer," he added.
There was a minute's silence before the match and Nadal, wearing a black ribbon on his bright yellow shirt, seemed visibly moved as pictures of Ballesteros came up on the giant television screen at the arena.
"He is irreplaceable ... as a person and an athlete and was an example for all of us.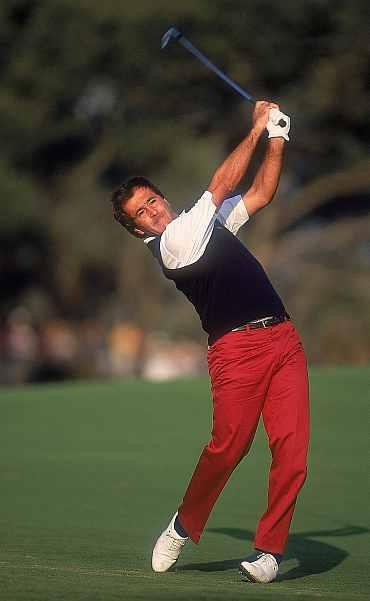 "I had the good fortune to play 18 holes of golf with him one day and that is a memory I will never forget.
"Severiano is one of the greats of this country for sure. In some ways life is cruel, difficult ... these last few years have not been good for him," added Nadal, referring to five-times major winner Ballesteros's long battle with brain cancer.
"He was an example for the whole of society, for all the athletes, all the kids."
NO MORE SUFFERING
Nadal's fellow countryman Sergio Garcia said Ballesteros had been "very inspiring".
"To do what he did was amazing," golf's former world number two told reporters at the Quail Hollow Championship in North Carolina.
"He played differently and that just shows you the kind of charisma he had.
"That's why people loved watching him. Now he can rest in peace and doesn't have to suffer any more," added Nadal.
Garcia's sentiments were echoed by Alejandro Blanco, president of the Spanish Olympic Committee.
"There are no words to explain in one minute his significance for Spanish sport and society," Blanco told domestic radio. "He was a free spirit, a man with exceptional gifts sent from God and an innate ability to play golf.
"He taught us all, not just on the golf course, how to face the great competition which is life," added Nadal.
Miguel Vidaor, tournament director at the Spanish Open golf tournament being played near Barcelona, summed up the mood among the competitors at the European Tour event.
"There are a lot of sad faces, especially among those who knew him best like Jose Maria Olazabal, Miguel Angel Jimenez, Colin Montgomerie," Vidaor told Spanish radio.
"They are playing on because I am sure Seve would have wanted that. For them to compete, as he was always a competitor like no other."