Oribe Peralta bagged a first-half hat-trick to help Mexico book their passage to the 2014 World Cup finals with a 4-2 victory over New Zealand in the second leg of their inter-continental play-off at Wellington Regional stadium on Wednesday.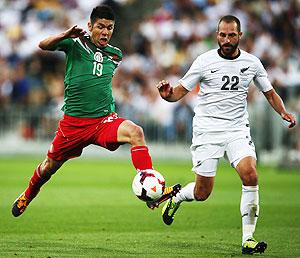 The CONCACAF heavyweights, who were fortunate to sneak into the play-off, won the two-legged tie 9-3 on aggregate after they had virtually sealed qualification with a 5-1 victory over the Oceania champions at the Azteca stadium last week.
Peralta put qualification beyond doubt when he chipped over Glen Moss for a 14th minute goal following a beautiful pass from Carlos Pena before doubling the advantage 15 minutes later and completing his hat-trick in the 33rd minute.
- France, Portugal, Croatia qualify for Rio World Cup
New Zealand added some respectability to the scoreline when midfielder Chris James blasted home an 80th-minute penalty and Rory Fallon grabbed a second three minutes later, before Mexico's Carlos Pena completed the scoring in the 87th minute.
Mexico will be appearing at their 15th World Cup and sixth in a row since they were banned from the 1990 event by FIFA for fielding over-age players in a youth tournament, but their run of success was almost broken in CONCACAF qualifying.
They were minutes away from missing out on a play-off berth when they were beaten by Costa Rica last month but survived only after Panama blew a 2-1 lead against the United States, who qualified automatically along with Costa Rica and Honduras.
Their pace and deft touch proved too much for the All Whites on Wednesday, with Carlos Pena and Miguel Layun out-flanking New Zealand down the wing or splitting the central defence with well-timed runs.
All Whites coach Ricki Herbert, who is stepping down after eight years in charge, had selected a more attacking side following the Azteca defeat and the team showed plenty of intent but left too much space at the back for the visitors to exploit.
Image: Oribe Peralta of Mexico reaches out for the ball past Andrew Durante of New Zealand during leg 2 of the FIFA World Cup Qualifier at Westpac Stadium in Wellington, on Wednesday
Photograph: Hannah Johnston/Getty Images