Argentina's new coach Jose Pekerman appears the ideal choice to carry on where Marcelo Bielsa surprisingly left off when he resigned on Tuesday.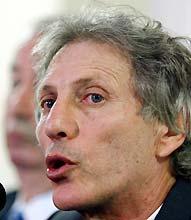 Bielsa had built a young, attack-minded team brimming with talent which looks poised for great things provided the job is continued by a man with a similar approach to the game.
Pekerman shares Bielsa's footballing philosophies of attacking football and fair play.
As coach of Argentina's under-20 team from 1994 to 2002, he helped develop many of the players he will coach in the senior side.
Pekerman masterminded a period of considerable success in Argentine soccer that only fell short at the ultimate hurdle -- the World Cup finals in South Korea and Japan in 2002.
He steered his country's under-20s to three world youth titles between 1995 and 2001 but then watched from the sidelines as Bielsa failed to bring home the biggest crown.
Most of the players now regarded as the future of Argentina's national team will have passed through the hands of Pekerman and his former assistant Hugo Tocali, now in charge of the juniors.
Pekerman's credibility is such that he could have taken over the national side much earlier.
He succeeded Daniel Passarella as director of all national teams in 1998 but did not feel sufficiently qualified to handle the senior side despite his inspirational successes with the boys in Qatar in 1995 and Malaysia in 1997.
Instead, he brought in Bielsa and his choice seemed vindicated by a team with a fine attacking game admired around the world.
Argentina travelled to the 2002 World Cup as favourites but there they ran into problems that Bielsa, stubbornly sticking to his trusted tactics, failed to overcome.
AIMAR EXAMPLE
Bielsa opted for experience in his World Cup squad and only included one Pekerman protege, midfielder Pablo Aimar who was in the World Youth Cup-winning side of 1997.
| | |
| --- | --- |
| | Also Read |
| | |
Yet Aimar turned out to be Argentina's biggest success in Japan while the country rued Bielsa's decision not to also include Javier Saviola and his new Barcelona team mate Juan Roman Riquelme, one of the victorious 1997 squad.
Following the tournament, Pekerman was again in line to take over the senior side as many felt Bielsa would not survive such a big failure.
Instead, Peckerman left his post at the Argentine Football Association and Bielsa's contract was later extended.
Bielsa struggled to regain credibility with the Argentine public but finally did so last month when he led the under-23 side to the nation's first Olympic gold medal in soccer.
HUMBLE BEGINNINGS
Pekerman was a journeyman footballer who played in midfield for Argentinos Juniors in the early 1970s, at the time when a young Maradona entertained the crowds at halftime with his ball juggling skills.
His one big break was a transfer in 1975 to Colombian club Medellin.
But injury curtailed his career and on his return to Argentina, Pekerman made ends meet driving a taxi and doing other part time jobs before beginning his coaching career in 1982 with the junior teams at Argentinos Juniors.
In 1990, he joined leading Chilean club Colo Colo as coach of their juniors teams, staying until December 1993.
Less than a year later, Pekerman was chosen from a short list of four to take charge of Argentina's junior teams.
After ending his association with the AFA two years ago, Pekerman joined the Argentine revolution at Spanish second division club Leganes in August 2003 where he was been brought in by the new owner, Argentine music tycoon Daniel Grinbank.
He resigned the following February, one month after Grinbank ended his involvement, forcing the club into cost-cutting measures which also resulted in the departure of coach Carlos Aimar and several members of the playing staff.