But for a split-second wobble in practice, Danica Patrick would most likely have become the first woman to take pole position at the Indy 500.
As it is, the 23-year-old rookie will start Sunday's race in fourth position on the grid -- the best starting position by a woman in the classic American event's 89-edition history.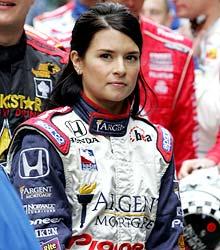 She is only the fourth woman to qualify for the Indy 500 and her predecessors, among many other admirers, believe she can become the first woman to win, despite a lack of experience.
"All the ingredients are in place," said Janet Guthrie, the first female driver to break the all-male barrier at Indianapolis in 1977.
"Danica is the first woman to arrive at the Speedway with top-notch equipment and the full backing of a winning team. And she has the talent and determination to make the most of her opportunity.
"Despite her inexperience at Indianapolis, there's no reason Danica can't win if she gets the right breaks on race day."
Patrick drives a Rahal Letterman Racing Panoz/Honda. The team won the Indy last year with Buddy Rice, who will miss this year's race because of a back injury.
Her car is identical to that of team mate Kenny Brack of Sweden, the 1999 champion who will start 23rd on the grid.
LONGEST RACE
Sunday will be the longest race of Patrick's career and only the fourth time she has raced her car on an oval.
She posted the fastest lap of any driver this month when she touched 229.880 mph in unofficial practice.
Patrick had already attracted attention when she was the fastest driver in the Indianapolis Motor Speedway's rookie orientation programme.
By the end of her qualifying run, on May 15, the media attention had grown to a frenzy.
Patrick made a basic error in the first turn of her four-lap, 10-mile run, calmed down and scorched through the next three laps in her 650-horsepower, open-wheel racer to qualify fourth with 227.004 mph, the best placing for a woman since Lyn St James qualified sixth in 1994.
Without that first-lap bobble, Patrick could have been the first woman on pole in the race.
"I feel like I wasted a pole car," Patrick said with steely cold eyes staring at the cameras and tape recorders of the media. "But then again, maybe I saved it."
Brazil's Tony Kanaan, in a Dallara-Honda, took pole position with 227.566 mph.
ENGLISH EXPERIENCE
Patrick left home in Roscoe, Illinois, at 16 to race Formula Fords in England. There she was spotted by Bobby Rahal, the 1986 Indy 500 winner and now co-owner of the Rahal Letterman team, during his short tenure as Jaguar's Formula One CEO and team principal.
Racing in England toughened her. "I came back every six months from England to the States. My parents kept telling me I was different every time, I'd matured or I'd changed," she said in a teleconference.
Since her stunning qualifying run American television networks have been vying for airtime with her, schoolchildren crowd outside her garage and newspapers, which cover almost exclusively NASCAR racing, have been devoting pages to the young driver.
Patrick accepts the attention with aplomb. "Going fastest and 'could have, should have, would have,' having a pole, is big news. It should be big news for any driver," she said.
She also has no regrets about appearing scantily clad in a photographic spread in a men's magazine.
"I was comfortable with it," she said. "But people are still talking about it, and that's the point of media and doing things -- you want to create a buzz and try to make people aware."