Two-time US Open champion Pat Rafter is to present Tennis Australia with plans to stop the national men's game from sliding into oblivion.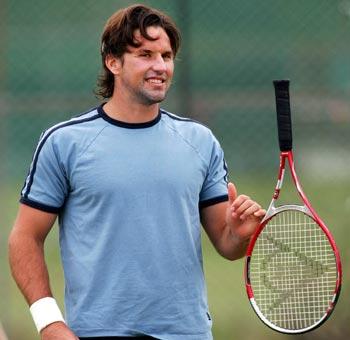 Frustrated by the poor state of men's tennis at top level in Australia, Rafter intends to convene a meeting of fellow ex-professionals to produce a blueprint for the board at next month's Australian Open, The Daily Telegraph reports.
Australia has just two players in the top 100 - rejuvenated veteran Lleyton Hewitt at No.22 and journeyman Peter Luczak at No.77, with Carsten Ball next best at No.137.
"There's a group of us that all think the same way and we think that Tennis Australia could make those changes and implement them a little better than what they are right now," Rafter was quoted, as saying.
"They're things that we'll put together and give to them in formal writing. They don't have to follow us ... but we all seem to come to the same sort of conclusion amongst the group of ex-professionals as well. We've been there, we know what it takes, so we think we know a little bit about what we're talking about," he added.
Rafter remained tight-lipped about his ideas and the make-up of his proposed panel, but he believed something needed to be done.
Rafter was in London for the AEGON Masters senior event, where he plays Goran Ivanisevic on Saturday for the first time since their epic 2001 Wimbledon final, which the Croat won.