Fans have grown used to seeing Leander Paes and Mahesh Bhupathi, former best friends and the "Indian Express" of the doubles circuit, on opposite sides of a tennis court.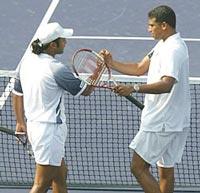 Sentimentality and nostalgia, however, kick in when it happens at the Chennai Open, India's only ATP event which will be played in the southern city of Madras next month.
Paes and Bhupathi, synonymous with Indian tennis over the last 10 years, are almost always still mentioned in the same breath -- even three years after a final spilt ended their run of 23 titles together which included three Grand Slam crowns.
Their success had started in Madras's Nungambakkam Stadium in 1997, when they won their first tour title before local fans and embarked on a dream run that took the country by storm.
"They're not partners any more and we've pretty much accepted that," said Sailesh Krishan, a 31-year-old engineer and tennis fan who saw them win three titles in a row in Madras.
"But at the Nungambakkam stadium it feels surreal to see them playing with someone else. For us, they were always meant to be together."
Bhupathi will play doubles at the January 3-9 tournament with Sweden's Jonas Bjorkman and Paes will partner Serbian Nenad Zimonjic.
The two Indians have never candidly talked about reasons for their split, attributed by the media to personal problems and ego clashes, and they have had successful careers apart.
ALL-TIME GREATS
Bhupathi won the 2002 U.S. Open with Belarus's Max Miryni and Paes made the news when he partnered Martina Navratilova to her 58th Grand Slam crown in the Wimbledon mixed doubles last year.
But some experts feel the duo could have ended up as one the all-time great doubles pairings had they stayed together.
In a country which has no other tennis heroes emerging from the wings, Bhupathi and Paes, even apart, are still seen as the only hope.
The lack of a proper tennis culture in India is blamed mainly on poor promotion and little support for the sport, which is regarded by young players as a stepping stone to a United States education rather than a professional option.
Ramanathan and Ramesh Krishnan, Vijay
and Anand Amritraj and Paes and Bhupathi were all produced more by accident than by support from the establishment.
Paes and Bhupathi embarked on their rocky journey in 1996 when they realised they had an uncanny chemistry while representing India in a Davis Cup tie.
They decided to play on the Challenger circuit as an experiment and ended up with half a dozen titles that year.
Moving to the next level, the pair won six ATP titles in 1997, more than anyone else including the Australian "Woodies" of Todd Woodbridge and Mark Woodforde, then the world's top team.
By the end of 1998, they had added six more titles.
But their coming-out year was 1999, when they became the world's best doubles pair, winning Wimbledon and the French Open and reaching the finals of the other two Grand Slam events.
BRIEF REUNION
It was success, however, that started to pull them apart.
They never discussed in public what went wrong but split up in the off-season after Bhupathi suffered a shoulder injury.
There was a brief reunion in 2000 when they seemed to have found a balance, staying in separate hotel rooms and burying their differences while on court.
Their last Grand Slam win was the 2001 French Open, where they pulled off a shock triumph on the red clay of Roland Garros.
The second split had a ring of finality to it.
Paes and Bhupathi still play together for India in the Davis Cup but when it comes to playing regularly on the ATP Tour, the gap between them remains too wide to bridge.
Despite the differences and the lack of practice together, they did win the 2004 Toronto Masters and came agonisingly close to bronze at the Athens Olympics, losing a marathon final set watched by millions back home until the small hours of the morning.
Their personal relationship has improved after Paes was admitted to hospital last year with a non-malignant brain lesion.
Bhupathi, visibly shaken, rushed to the Orlando hospital where Paes was being tested for cancer and the two have since become much more comfortable with each other.
But, if they do clash in Madras, there will be no quarter given and none asked for. For wistful fans, it will at least be a great match to watch.