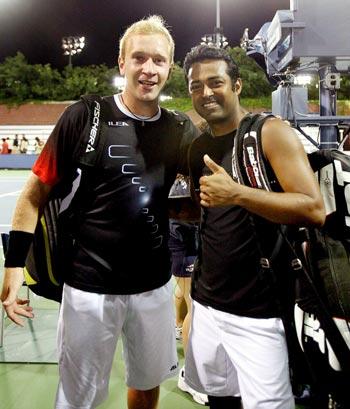 Indian ace Leander Paes and his Czech partner Lukas Dlouhy pulled off a hard-fought victory over the Romanian pair of Victor Hanescu and Gabriel Trifu to enter the second round of the US Open men's doubles at Flushing Meadows on Tuesday night.
The fourth seeds, who were runners-up last year, won 7-6(13/11), 7-6(7/4) after an hour and 47 minutes.
It was a see-saw battle from the start but Paes and Dlouhy held their nerve to bag the first set through the tie-breaker.
The story was the same in the second set as the Romanians tried hard to claw their way back into the proceedings. However, Paes and Dlouhy proved too good in the tie-breaker again to clinch the match.
The Indo-Czech duo will take on the winners of another first round match between the Spainsh pair of Nicolas Almagro/Ruben Ramirez Hidalgo and Teimuraz Gabashvili/Dmitry Tursunov of Russia.
Photograph: Jay Mandal