India's tennis fraternity lauded Paes for winning a Grand Slam title at the age of 38, describing him as a "born doubles player".
- Paes-Stepaenk wins doubles title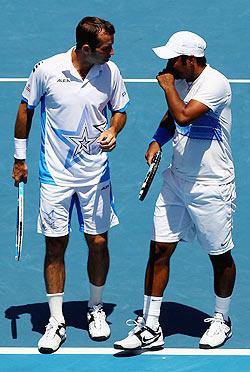 Former Davis Cup skipper Jaideep Mukherjea said the way Paes and Stepanek played, it won't be surprising if they win another Slam in the 2012 season.
"It's fantastic for Indian tennis. We are all excited. All credit goes to Paes for winning a Grand Slam at the age of 38.
"To win with a new partner is even more amazing," Mukherjea said.
Mukherjea said Paes and Stepanek took their game a few notches above their opponents in the title round.
"Their service return was fantastic. Even in the tie-breaker, they were so dominating. If they play like this, they could win another Grand Slam together. Doubles is all about reflexes and they were very agile," he said.
India's current Davis Cup captain S P Misra said Paes is a superb deuce court player and that's why he is so successful with advantage court specialists.
"He can disturb the rhythm of any player in the world. Such is his repertoire of shots. This is a remarkable achievement. He is born doubles player," Misra said.