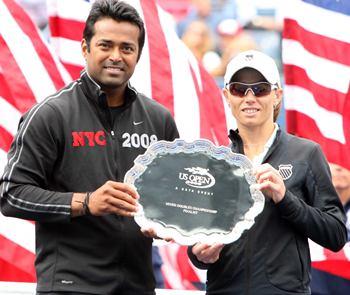 Leander Paes and Cara Black's hopes of retaining the US Open mixed doubles crown were dashed by Carly Gullickson and Travis Parrott on the Arthur Ashe court at Flushing Meadows on Friday.
The unseeded US pair came up with their best showing over the past two weeks to upset the defending champions 6-2, 6-4 in the final and claim the title.
Paes and Black were unable to strike up a rhythm while the US wild card pair did everything -- from serving consistently to exploiting in the wide gaps their opponents left -- right. In fact, Paes and Black struggled from the start, the Indian ace just about holding serve after facing break-point in the first game.
And when Black was broken in the third game it was no surprise. Parrott and Gullickson continued to repeatedly use the long overhead lob to good effect and score. They effected another break on the Zimbabwean's serve in the seventh game to go up 5-2 before Gullickson served her first ace en route to wrapping the set at 30 in 27 minutes.
Paes and Black's misery continued in the second set as Black was again broken in the third game. Another break on her serve in the seventh game left the Americans simplest of tasks of serving out the next game. But Gullickson failed to hold serve, allowing the Paes and Black a short lease of life.
But after Paes held, Parrott completed the formalities as he served out the next game at love for a memorable victory in an hour and six minutes.
Paes still has a chance to lay his hands on silverware at the Open as he and Lukas Dlouhy take on third seeds Mahesh Bhupathi and Mark Knowles in the men's doubles final.
"I can't even believe it," said the 22-year-old Gullickson. "It's my first time on Arthur Ashe. It was a great experience. I'm super excited and happy right now."
While Gullickson and Parrott, who also defeated the No 1 and 3 seeds along the way, received $150,000 for the win, the 36-year-old Paes, who already has won four Grand Slam mixed doubles titles, and Black emerged richer by $70,000
"Our opponents were too good for us today." Paes said. "They played excellently well."
Photograph: Mohammed Jaffer/SnapsIndia