Filipino southpaw Manny Pacquiao is expected to return to the ring on December 8 for a fourth fight against long-time rival Juan Manuel Marquez of Mexico, according to several media reports.
Promoter Bob Arum said on Thursday that fight negotiations were being hammered out this week with a decision likely in "a couple of days."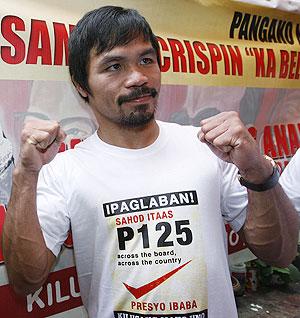 Arum was not prepared to give any further details, though some media have reported that a formal news conference promoting the fight will take place on Tuesday in Los Angeles.
Pacquiao beat Marquez with a controversial majority decision when they met in Las Vegas in November, and said afterwards he would be happy to take on the Mexican again "any time."
The Filipino has fought just once since then, surrendering his WBO welterweight title on a hotly disputed split decision to American Timothy Bradley in Las Vegas in June.
That stunning result ended a run of 15 consecutive wins by Pacquiao, who has won world titles in an unprecedented eight weight divisions.
After that fight, both boxers expressed enthusiasm for a re-match on November 10.
"It will make me a warrior in having this kind of re-match," Pacquiao, whose record slipped to 54-4-2 with 38 knockouts, said at the time. "In the re-match, I want to finish him before the whole 12 rounds. I want the re-match."
However that re-match has since been put on ice, reportedly because the pay-per-view sales for their first bout were relatively weak.
Bradley was a 5-1 underdog against Pacquiao and their June 7 fight failed to attract a sellout crowd at the MGM Grand Garden Arena.
TOUGHEST OPPONENT
In contrast, Marquez has consistently been the Filipino's toughest opponent and their most recent bout generated nearly 400,000 more pay-per-view buys than the Bradley-Pacquiao fight.
Marquez and Pacquiao are renowned for their aggressive approach in the ring and they fought to a draw when they first met in May 2004.
The Mexican then lost his WBC super-featherweight title to the Filipino in a controversial one-point split decision in March 2008.
Ten months ago, Pacquiao was tested to the full in their third encounter before narrowly retaining his WBO welterweight title after his preparations had been hampered by various distractions, including marital difficulties.
Though the southpaw earned two of the verdicts from the three judges, he delivered one of the least impressive performances of his career and boos echoed around the arena from the disgruntled Mexican fans.
Asked afterwards if he would consider a fourth bout with three-division world champion Marquez, Pacquiao replied: "Any time, any time. I am a fighter and my job is to fight in the ring."
Marquez, who lifted his arms in triumph when that fight ended, was bitterly disappointed with the outcome, after firmly believing he had been cheated of victory in his two previous meetings with Pacquiao.
"It's hard when you're fighting your rival and the three judges, too," the Mexican said in his dressing room, having stormed out of the ring after the decision was announced and his chance of vindication denied. "I got robbed."