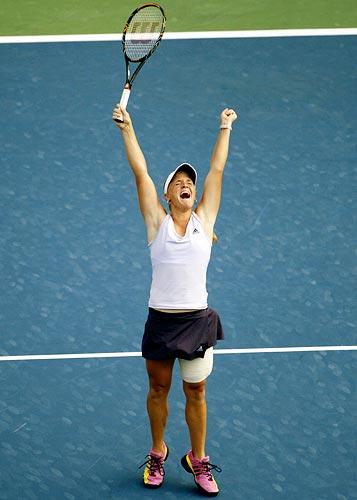 If anyone had told Melanie Oudin just a few months ago that she would be surging into the world's top 50 before the end of the year, she probably would not have 'believed' it.
The new darling of American tennis -- who whizzes around the court in her bright pink and yellow shoes stamped at the heel with her mantra 'BELIEVE' -- ended 2008 ranked 177th in the world.
Nine months later the 17-year-old who has captivated the fans with her bubbly personality and audacious on court craft is on the verge of becoming a member of the tennis elite.
Her runs to the fourth round at Wimbledon and the US Open, where she has claimed the scalps of Olympic champion Elena Dementieva and 2006 US Open winner Maria Sharapova, has already left her on the fringe of the top 50.
"I was hoping to be top 50 but if I keep playing like this, I can get as high as anything," a beaming Oudin told the crowd in an on-court interview after her 3-6, 6-4, 7-5 victory over 29th seed Sharapova.
This has been quite a year for Oudin as not since a then 17-year-old Sharapova outwitted Serena Williams in the 2004 Wimbledon final has such a performance grabbed the sport's imagination.
On Saturday the 1.68-meter-tall (5-foot-6) world number 70 became the youngest American to reach the Open fourth round since Williams's stunning title run in 1999.
"How I would describe the whole experience?" asked Oudin, already the third highest-ranked American behind Serena and her sister Venus.
"There's not really one word. Everything about it is just unbelievable. But basically I love to play tennis, and that's why I'm here. I'm loving it."
Since the Williams sisters are on the other side of the draw, many home-town fans have already started dreaming about the possibility of an Oudin-Williams showdown for the Flushing Meadows title on September 12.
FANS EMBRACE OUDIN
Fans embraced a new darling on Saturday, showering 17-year-old American Melanie Oudin with encouragement and affection after her three-set upset win over 2006 champion Maria Sharapova
"I thought it was fantastic," Roopram Ramharack of Long Island said at the National Tennis Center plaza where thousands of fans gathered to watch Saturday's third-round match on a giant TV screen.
"That's incredible. I think that's fantastic."
As some 23,000 fans roared inside Arthur Ashe Stadium, those that could not cram into centre court watched from among the restaurants, bars and the fountains of the plaza.
"The last match like this might have been Serena," he said. "When she came, I think she was also pretty young and she made it all the way. I think it would be fantastic if this girl takes it all the way. That would be an incredible upset."
Oudin became the youngest American woman to reach the fourth round since Serena Williams's stunning title run in 1999.
"The crowd was totally in her corner, completely behind her," said Mayur Saxena of New York. "And that was surprising because Sharapova is normally a very sympathetic opponent. She just deserved it. She played a better match.
"There is probably no better crowd than the one in there," added Saxena who watched some of the match from inside the stadium and some out in the plaza.
"It's a little different here. Everyone was just on their feet at the end, screaming their heads off. It was awesome when she did win."
Jake Lester, a tennis coach from Durham, North Carolina, was impressed by the young American.
"I thought it was amazing. I thought the way she played was extremely consistent and she kept fighting all the time. That's what won her the match. Her level never dropped.
"She reminded me a little bit of when (American Jennifer) Capriati was coming up. She was a younger player, taking on the more established players. How she would come out fearless and ready to play, Oudin kind of reminded me of that."
"I think New York fans are phenomenal," said Tim Lo of Toronto. "It was packed, completely packed out here. But they are kind of hard on the players. Today they were pretty hard on Sharapova but Oudin is American. She's got guts."
Photograph: Reuters