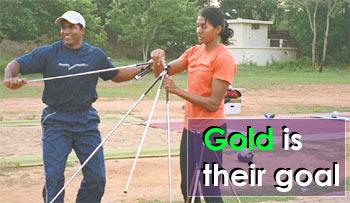 Sports is our passion, our way of life and our one true common love," says Bobby George smiling at his wife Anju as he helps her up from her synthetic exercise mat.
Bobby is Anju's personal trainer, jump coach, nutritionist, cook, masseur, sports manager, travel planner, sports psychologist and friend, all rolled into one. Not surprising, then, that he usually sleeps for only four or five hours a day.
"Once Anju's career as a jumper is finally over, which I don't see happening for a very long time, I dream of just taking a whole year off for myself," Bobby told rediff.com, in an exclusive interview in Bangalore, before the couple left for Europe. "My life is simply too stressful right now," he added.
What would he like to do once he stops coaching Anju?
"I am very interested in farming," he says. "I would love to live on and run my farm. But I am not a workaholic. I want to keep enough time to be able to participate in family weddings, get-togethers, that sort of thing, which I am simply not able to do now."
As for running an academy to train jumpers or heptathlon athletes, Bobby would love to do that provided somebody would fund, organise and run it, and leave him to just do the training.
As Bobby rightly points out, if Anju wins a medal at the Olympics, it would not be her victory alone, but a win for the husband-wife team.
Anju and Bobby work together, almost as one person, with one goal in mind: winning a gold medal at the Athens Olympics.
"We are not even thinking of anything less than the gold," says Bobby, confidently.
Long Jump records
| | | |
| --- | --- | --- |
| World record | Galina Christyakova, 7.52m | 11/6/88 |
| Olympic record | Jackie Joyner-Kersee, 7.40m | 1988, Seoul |
Bobby met Anju at a training camp at the Sports Authority of India campus in India, where both were training under national coach P T Joseph, in 1996. They became friends almost at once, and Anju now confesses shyly that she thought Bobby was a great looker.
"He was a model and was a finalist at a Mr India contest too," she says.
Bobby was a triple jump national champion as well as a star volleyball player; Anju was in training for the long and triple jumps. She failed in the selection trials for the 1998 Asian Games, and that was when Bobby, who had begun to care for her a lot by then, decided to take her under his wing to hone her jumping skills. Their personal relationship remained a secret for a while, until coach Joseph found photographs of Anju in Bobby's room.
Bobby's sister, who also lives in Bangalore, was chosen to break the news to their father George Joseph, an advocate living in Peravoor, about an hour's drive from the north Kerala town of Kannur. Joseph is a great supporter of all sports. In fact, when he produced seven sons, he built a professional standard volleyball court at home. All his sons turned out to be good volleyball players. Jimmy George became India's first professional volleyball player, but died young in a car crash in Europe some years ago.
Bobby too met with an accident in 1998, busted his knee and had to have screws put into it.
"I think he could still have made a comeback as a jumper, but he decided instead to become my coach," says Anju. "Bobby gave up his career to coach me. I have reached where I am because of his sacrifice."
Bobby recognised that Anju had truly tremendous potential. "She was winning golds here and there, but was not consistent," he says now. "I felt she had truly great potential. If she had had better financing, more systematic coaching and direction, she would have done far better at an earlier age."
What are Bobby's ambitions for himself?
"I am a mechanical engineer by training," he says. "I also did some modeling for (Bangalore style guru) Prasad Bidappa around that time, five years ago. I aspired to enter model hunt contests, but once I took over as Anju's coach, I had to give up all that. There was simply no time!"
Anju's performance in recent meets

| | | | | |
| --- | --- | --- | --- | --- |
| Date | Competition | Pl. | Result | Wind |
| 05.08.2003 | Stockholm DN Galan | 2 | 6.49 | + 0.3 |
| 30.08.2003 | IAAF World Championships | 3 | 6.70 | + 1.2 |
| 14.09.2003 | IAAF World Athletics Final | 5 | 6.50 | - 0.9 |
| 14.05.2004 | Qatar Super Grand Prix | 1 | 6.82 | + 2.3 |
| 19.06.2004 | Prefontaine Classic | 3 | 6.83 | + 2.6 |
| 17.07.2004 | Madrid Meeting 2004 | 2 | 6.62 | + 1.7 |
Soon after Bobby became her coach, in 1999, Anju set a national record for the triple jump in the Bangalore Federation Cup, and won a silver medal at the South Asian Federation Games in Nepal. But immediately after that she suffered an ankle injury that threatened to end her career. She missed the Sydney Olympics and was out of competitive jumping for two full years. It was during this time that she married Bobby.
"Ours was finally a love-cum-arranged marriage, as our parents were quite happy about our match," confesses Anju now. Bobby is a Catholic, while Anju is a Jacobite; she became a Catholic after marriage. They got married on April 24, 2000. Both Bobby and Anju come from rather religious and devout families. Anju always carries a figurine of the Blessed Virgin Mary in her bag, and her parents pray for her whenever she goes to competition.
Everyone thought that they had seen the best of Anju, but Bobby knew that was not so.
"I read up all that there was to read about biomechanics and did some research on jumps," he says.
In 2001, Anju, who now trains for 35 hours a week, bettered her own long jump record with a leap of 6.74 metres. It is her best till date.
Bobby starts his morning being her trainer. Then, the nutritionist kicks in, planning her day's menu. The coach takes over and puts her through her training schedule. The afternoon is spent watching jump videos, visualising enhanced performances, and setting a target for the evening, during which time Bobby becomes sports psychologist.
In the evening, the cook makes her a cup of tea and drives her back to the stadium. When they are in Bangalore, the coach takes over and the couple works hard on the tracks until nine at night. In between, the masseur gives massages for recovery, and arranges sauna and ice baths for Anju. After Anju has dinner and goes to sleep, the manager begins his night's work, of corresponding by e-mail with contest organisers and journalists, checking Anju's media coverage and downloading it for her for the next day, researching new jump strategies and generally planning Anju's schedule.
Now Bobby is on what he calls the road to Athens with Anju.
When will the couple take time off to start a family?
"There's no hurry for that," says Bobby. "At present, our clear target is the Olympics. Then we want to see what further opportunities will come Anju's way; we are already entered for some contests in September 2004."
For a man who has dedicated many years of his life to a cause, Bobby is remarkably at peace. "I believe in taking life as it comes," he says calmly. "I am the eternal optimist."