When 16 intrepid students of the Delhi College of Engineering decided to build a racing car, many laughed it off as a pipe dream.
But the detractors were left eating humble pie when the students took off on Wednesday for Leicestershire, England, to take part in Formula Student 2003 car exhibition. 
Students from 44 countries will be exhibiting the cars they have assembled at this event, which encourages young auto-engineering talent from around the world.

The Delhi College of Engineering, the first Indian team to take part in the event, will also bid for The Chris Cernes Memorial Trophy and The Carroll Smith Memorial Shield. The first prize carries a cash component of 500 pounds.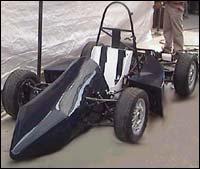 The students' passion for car racing can be explained by the fact that Formula One is the second most watched sport on television in India.
"As aspiring young engineers from different branches, we were eager to make use of our education to this point, and to put our minds to achieve something as a group that otherwise would not be possible. We then assembled a group of dedicated, competitive, and enthusiastic learners," young Chirag Taneja, who is part of the team, told rediff.com before leaving for the competition.
But assembling a race car from scratch was easier said than done.
"The task of contructing a race car from the groud up was so complex it deterred senior engineers at the college. Our intense passion for motor sports began as a dream one and a half years ago. What started as a dream has turned into a reality and we have been able to put together a racing car," explained Nishchint Gangahar.
The team had faced many difficulties, right from procuring the engine to arranging transportation for the car.
"We got a Yamaha YZF R6 of 600 CC engine, which we had to import from the United States. Then we had to argue it out with the customs for waiving off the import duties. We have spent close to Rs 600,000 on putting the car together," Nishchint said.
Arranging for transportation proved to be a bigger hurdle and even those in power could not help.
"We met the Minister of State for Sports Vijay Goel and he told us that we had come to him too late. But somehow we managed to send the car by Lufthansa Airlines. All of us are travelling to London on our own. We wish someone had come forward to help us financially as well," said the students.
A few companies, however, stepped in where the government failed to.
J K Tyres gave them tyres. Likewise Hindalco, Advance Ventilation, Sona Koya steering, Power Pack, Kalyani Brakes, Mark Exhaust Systems; all chipped in by giving them various components for the car.
Asked whether they will win the competition, Chiraj Taneja said, "We are competing against the best universities in the world; we hope and pray that we get rewarded for our hard work. But what is important to us that we would be representing the country for the first time."