Iran's world judo champion Arash Miresmaeili refused to compete against an Israeli on Sunday, triggering a fresh crisis at the Olympic Games where race, creed or colour are barred from interfering in sport.
The International Judo Federation (IJF) failed to agree how to deal with the politically explosive issue at an emergency meeting and said it would hold further talks on Monday.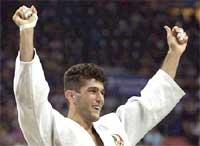 Another scandal rumbled on, with the home nation's two top athletes saying they would miss an appeal hearing on Monday that may bar the sprinters from the Games for missing drugs tests.
The burning issue in the judo was whether any penalty would hit Miresmaeili alone or the entire Iranian team, as the intrusion of the Middle East's bitter politics threatened to fly in the face of the Olympic ideal.
"There has been no decision and we are considering this situation very carefully," said IJF spokesman Michel Brousse.
"This has not been brought to us as an issue and until it is, we would not have any comment," said a spokeswoman for the International Olympic Committee (IOC).
Iran's President Mohammad Khatami left no doubt about his feelings, saying Miresmaeili's action should be "recorded in the history of Iranian glories".
Miresmaeili was quoted by Iran's official news agency IRNA as saying he "refused to face my Israeli rival in sympathy with the oppressed Palestinian people", adding: "I am not upset about the decision I have made."
But shunned Israeli opponent Ehud Vaks told Israeli Army radio he felt sure Mirasmaeili had no choice. "The fact that he did not take part is sad," he said. "They broke his heart."
CHINA LEADS
Some countries seemed unstoppable. Japan notched up the 100th gold medal of its Summer Olympics history with judoka Tadahiro Nomura's record third title, and China were 15 golds away from the 100 milestone after an impressive start in Athens.
The Chinese led the early medals tables with five golds and hoped for a big haul on Monday in the synchronised diving.
Australia's Sara Carrigan upstaged the favourites to win the women's Olympic cycling road race while Dutch defending champion Leontien Zijlaard-van Moorsel crashed out with two laps to go.
In a fresh doping case, Slovak shot putter Milan Haborak tested positive for a banned substance and left the Olympics, the Slovak news agency SITA reported.
"I really am sorry because I was really looking forward to competing. I trained long and hard. But I do not know that I took something that is banned," SITA quoted Haborak
as saying.
Team spokesman Anton Zerer refused to comment on the report.
The national black sheep of the Games since the missed a doping test last Thursday -- Greek sprinters Costas Kenteris and Katerina Thanou -- will not attend an disciplinary hearing on Monday as expected, said a doctor citing medical reasons.
"The athletes need to undergo further examination," he told reporters at the Athens hospital where the pair have been treated since a motorcycle crash after the missed test.
The two were suspended from the Greek team on Saturday.
HOT AIR
On the second day of full competition, Athens was blasted by a hot, hair-dryer wind that threatened to spook horses at the equestrian events and played tricks at the archery.
The rowing regatta had to be stopped altogether, prompting some told-you-so comments from critics who said it was located in the wrong place to begin with -- alongside the windsurfing.
But the gusting winds could not stop Russia's Alexei Alipov winning gold in the men's trap shooting with a near-flawless performance on a range carved into a mountain top.
The 29-year-old Muscovite scored 149 out of 150, including a perfect 25 in the final round. It gave the Olympic giants their first gold of these Games and Moscow claimed it was its 500th overall, adding in four decades of Soviet-era achievement.
Swimming again grabbed most attention as Australia's Ian Thorpe won round one of a duel with American Michael Phelps, qualifying fastest for the 200 metres freestyle.
Thorpe showed no signs of fatigue from his titanic victory over compatriot Grant Hackett in Saturday's 400 freestyle as he cruised through his heat in one minute 47.22 seconds.
It was the archery contest that returned the Games to their birthplace in Athens's Panathinaiko Stadium, 108 years after the first modern Olympics in the classical marble amphitheatre.
Attendance at the Games, the first since the September 11 attacks on the United States three years ago, has disappointed in the first two days, but organisers hope it will soon pick up.
Athens has spent 1 billion euros ($1.23 billion) on security, four times more than Sydney in 2000, and security personnel outnumber athletes seven to one.
So organisers were swift to play down a British newspaper's charge that security at the Games was a "terrorist's dream".
Organisers said a background check had indeed been conducted on the Sunday Mirror's Bob Graham before he got the job, and the "suspicious packages" he planted were not detected precisely because they were harmless and eluded the noses of sniffer dogs.