Russian Oleg Saitov has never been a crowd pleaser but could soon be joining Olympic boxing's all-time greats in the record books.
The 30-year-old welterweight, who has frustrated many more spectacular fighters for over a decade, is just two wins away from becoming the fourth boxer to win three Olympic gold medals and the third to do it in the same weight class.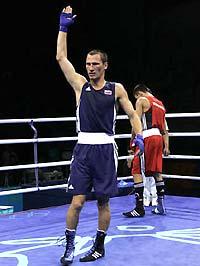 His awkward style and lack of power have not stopped him from reaching the semi-finals to knock on the door of a select club featuring Cuban heavyweights Teofilo Stevenson and Felix Savon as well as Hungary's Laszlo Papp, who also won three titles but from two divisions.
Protected by a high, tight guard, Saitov relies on accurate counter-punching and rarely allows his opponent to land a clean blow.
Many non-Russian fans hate his boxing but it suits the electronic scoring system perfectly and has earned him a fine collection of medals over the years, with also a world title and two European crowns.
The Russian, who has won five of the last six major tournaments he has entered, had missed all the big events following the Sydney Games when he returned for the European championships in February, winning another gold.
Saitov's previous runs to Olympic glory have been far from smooth. In the 1996 final in Atlanta, he upset the top favourite, Cuba's Juan Hernandez, with a decision that infuriated Cuban coach Alcides Sagarra, who protested by throwing Hernandez's gloves to the canvas and refusing to congratulate the Russian.
In Sydney his quarter-final bout with Ruslan Khairov of Azerbaijan ended 10-10 but he won a tiebreak to advance before beating Dorel Simion of Romania in the semi-finals, although many observers felt he had lost.
He won the final, over Ukraine Sergey Dotsenko, relatively easily with a typically methodical display and was surprisingly named best boxer of the tournament.
His campaign so far in Athens has featured a close call, a 18-17 win over Egypt's Mohamed Hikal in the second round, but his quarter-final win over Sherzod Husanov of Uzbekistan on Sunday was a lot more comfortable and reminded he should not be ruled out.
His semi-final opponent, Bakhthiyar Aratayev of Kazakhstan, seems within his reach and he could then meet Cuba's Lorenzo Aragon in the final.
In terms of pure skills, Saitov and the classy Aragon may not be in the same league but the men in the Cuban's corner, aware of the Russian's pedigree, would not take anything for granted.