Dwight Phillips of the United States completed a hat-trick of global long jump titles when he crushed the field with his opening leap to take gold in Thursday's Olympic final on Thursday.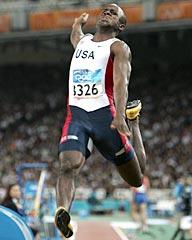 The 2003 world champion indoors and out, the hot favourite in Athens, set the standard with 8.59 metres. It was one centimetre off his best, set in Austria three weeks ago, 28 cm more than anyone else in the field had managed this season and better than anyone else in the world had produced for four years.
From then on, the rest of the field were fighting for the minor medals.
John Moffitt made it an American one-two when he improved his personal best by 18 cm with a fifth-round leap of 8.47 while Spain's Joan Lino Martinez got bronze with 8.32, also a personal best by six centimetres.
That jump by Martinez was subject to a protest by British officials, who said it should have been flagged a foul.
Briton Chris Tomlinson finished fifth with 8.25, six cm behind Atlanta silver medallist James Beckford of Jamaica.
A more justifiable protest would have been that the whole competition was unfair, such was Phillips's advantage over his opponents.
His 8.60 from Linz on August 2 was way beyond anything the other 11 finalists had in their armoury and Phillips knew he only had to avoid fouling to pick up the gold.
He had needed only one jump in qualifying, 8.31, to go through and secured the gold medal with his opening jump of the final.
His second looked even bigger but was a marginal foul and after overstepping the board again on his third attempt, he passed in the fourth and fifth rounds.
By the time he registered 8.35 in the final round he was already assured of the gold medal.
Defending champion Ivan Pedroso of Cuba, four times world champion but coming off a long run of injuries, managed a season's best of 8.23 with his final jump but that was enough only for seventh.