US President Barack Obama poked fun at one of sport's biggest stars at the White House on Tuesday, remarking that British soccer player David Beckham had a knack for combining athletic prowess with commercial appeal.
The quip came as the president congratulated Beckham and his teammates on the Los Angeles Galaxy, who defeated the Houston Dynamo last November to clinch the 2011 Major League Soccer Cup.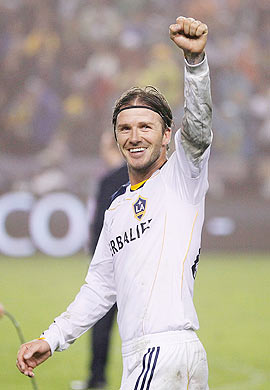 "It is a rare man who can be that tough on the field and also have his own line of underwear," Obama said with a smile to laughter from the audience.
Beckham's fame transcends the soccer field. He has landed endorsement deals with Adidas and Pepsi, and is known for showing off his body in underwear ads for H&M. His wife, Victoria, is a former member of the Spice Girls, one of the most successful bands of the 1990s.
Obama joked about the veteran soccer player's age. The 37-year-old has a good number of years on most of his team-mates. "I have to say I gave David a hard time -- I said half his team-mates could be his kids," the president said. "We're getting old David, although you're holding up better than me."
Photograph: Jeff Gross/Getty Images