Belgian Kim Clijsters said she had finally earned her nickname "Aussie Kim" after beating China's Li Na 3-6, 6-3, 6-3 to capture her first Australian Open title on Saturday.
"Now I feel you guys can call me 'Aussie Kim' because I won the title," the third seed said at the presentation ceremony, flashing a wide smile after winning her fourth Grand Slam singles crown.
"I'm a little shaky still," added the third seed, a beaten Melbourne finalist in 2004, who had buried her head in her towel and sobbed gently after the win.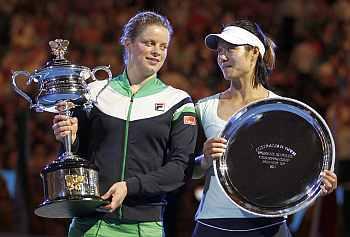 "Li Na was definitely a very tough competitor. She really brought it to me at the start of the rallies. I was on the back foot and leaning back -- I don't like that.
"The first set, I thought 'Wow! This is going to fast for me!' It was tough. I felt in the second set she was getting a bit nervous. I was just happy I was able to pull it off in the end," she added.
Thanking everyone from the ball boys to a local dentist who repaired a chipped tooth before the start of the tournament, the 27-year-old working mum revealed her superstitious side.
"My uncle came to watch me in Doha (at the 2010 year-ending WTA Championships) in the ugliest green trousers I have ever seen," laughed Clijsters, who has won three majors since returning to women's tennis in 2009 following a two-year break.
"I'm superstitious so I told him if he's going to come and watch me he has to wear them and he was like 'Oh God!'
"But he wore them here so thanks," she said pointing to her box.
Clijsters will climb to number two when the new world rankings are published.