Paris St Germain have ruled out a move for David Beckham after the former England midfielder announced he was leaving LA Galaxy after next month's Major League Soccer Cup final.
Beckham has said he has plenty of "exciting opportunities" to consider once his six-year playing career with the LA Galaxy ends but PSG coach Carlo Ancelotti said the French club had no plans to open the cheque book for the 37-year-old.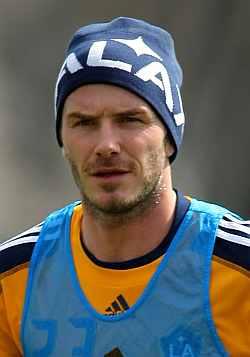 "Beckham? We have not made an offer," Ancelotti was quoted as saying by sports daily L'Equipe on Wednesday.
"We're done (recruiting). Good luck to him for the future."
Sports director Leonardo echoed Ancelotti's view, saying: "There is nothing."
It was only in January that Beckham signed a new deal with the Galaxy but his departure, announced on Monday, paves the way for him to enjoy a last hurrah elsewhere while the Galaxy could take the chance to look for a new big name in his place.
Beckham had been strongly linked with a move to PSG last year before he decided to sign a new contract with the MLS club.