The Oklahoma City Thunder booked their place in the National Basketball Association finals on the back of a furious second-half comeback led by Kevin Durant to take a series-clinching 107-99 win over the San Antonio Spurs on Wednesday.
The Thunder roared back from an 18-point deficit in the first half, outscoring San Antonio 59-36 after the intermission to claim the best-of-seven Western Conference series 4-2 on their home court.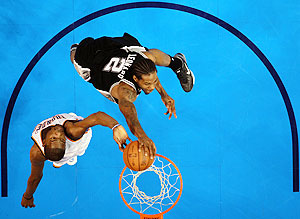 Oklahoma City will now play the winner of the Eastern Conference final between the Boston Celtics and Miami Heat in the best-of-seven NBA championship series.
After halting the Spurs' 20-game winning streak last week, Oklahoma City surged into the championship series by taking four straight games to overturn a 2-0 deficit.
Three-time NBA scoring champion Durant, 23, led the charge with a game-high 34 points and 14 rebounds while playing the entire 48 minutes.
"This is the toughest game I've played since I've been here," Durant said in an on-court ceremony as the packed home arena crowd interrupted him with a chant of "MVP, MVP, MVP."
"But we kept playing hard. I tried to inspire my team mates with my play on both ends of the floor, and I'm glad we got this victory for Oklahoma City."
Durant and 23-year-old point guard Russell Westbrook helped bring the Thunder to the NBA Finals in the franchise's fourth season in Oklahoma City after the move from Seattle.
The Spurs, a veteran team with core players Tim Duncan (36), Manu Ginobli (34) and Tony Parker (30), came out on fire, determined to force a Game Seven back in San Antonio.
French point guard Parker lit up the Thunder with 21 points and handed out 10 assists in the first half, with Duncan adding 13 points as the Spurs held a 15-point lead at halftime 63-48.
Photograph: Ronald Martinez/Getty Images