Mike Woodson did not have long to wait for his first win as new coach of the New York Knicks as his team trampled the Portland Trail Blazers 121-79 at Madison Square Garden on Wednesday to end a six-game losing streak.
Woodson is acting as interim head coach after Mike D'Antonio resigned earlier in the day.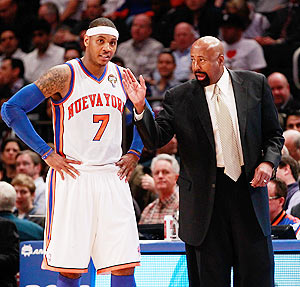 "For our team, this was an important game," said Woodson. "We're still trying to stay in the playoff hunt."
The Knicks kept pace with Milwaukee after the Bucks beat Cleveland to remain tied with New York (19-24) for the eighth and final Eastern Conference playoff berth.
Portland, losers of six of their last eight, dropped to 20-23.
"It's kind of an emotional day, you lose your head coach, who I have a great deal of respect for," said Woodson, praising his players' effort at a difficult time.
Anthony contributed seven assists to go with his 16 points, while Stoudemire shot 8-for-10, mostly on dunks, in scoring 17.
In the other match, the Chicago Bulls overcame the absence of league MVP Derrick Rose to earn a 106-102 win over the Miami Heat on Wednesday with third-string point guard John Lucas III scoring 24 points to emerge as an unlikely game winner.
Lucas stung Miami with 11 points in the fourth quarter, including two clinching free throws that set the final score with six seconds left.
Dwyane Wade scored a game-high 36 points and LeBron James put up 35 but the Heat (31-11) fell behind by 17 in the third quarter and struggled to claw their way back.