Chris Bosh scored 34 points and LeBron James added 22 as Miami Heat beat Chicago Bulls 96-85 in Game 3 of the Eastern Conference finals on Sunday night.
Miami now leads 2-1 in the best-of-seven series.
Game 4 is on Tuesday night, in Miami.
The Heat turned it on in the fourth quarter behind Bosh, who rebounded to have a strong game missing his first three shots.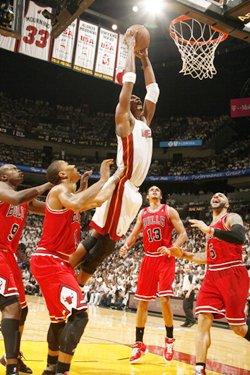 The Bulls got 26 points from forward Carlos Boozer, but received another subpar game from point guard Derrick Rose. He finished with a quiet 20 points on 8 of 19 shooting.
Miami once again was solid on defense, holding the Bulls to 41 percent shooting.
Derrick Rose, Carlos Boozer and Luol Deng, Chicago's top three scorers, all shot below 50 percent.
In contrast, Miami hit 50 percent from the field and made 25 of 29 free throws.
With the score 72-68 in the fourth quarter, Bosh scored Heat's next eight points. It changed things, because the Bulls now had to contend with Heat's Big Three instead of just focusing on James and Dwyane Wade.
Miami pushed the lead to nine late in the third on a jumper by Haslem, then saw most of that edge disappear quickly. Deng made a 3-pointer to get Chicago within 68-65, then stole Mike Miller's inbounds pass with 5.2 seconds left and got a good look at a jumper that rimmed out with a second left.