The Miami Heat recovered from their Game Two meltdown in the NBA Finals by edging the Dallas Mavericks 88-86 on Sunday to take a 2-1 lead and regain the home-court advantage in the best-of-seven series.
Chris Bosh, who had been a big disappointment in the first two games of the series, provided the winning margin for Miami on a 16-foot jump shot with 39.6 seconds left.
Dirk Nowitzki, who had 15 of his team-leading 34 points in the final quarter to help the Mavericks recover from a seven-point deficit, misfired on an 18-footer at the buzzer.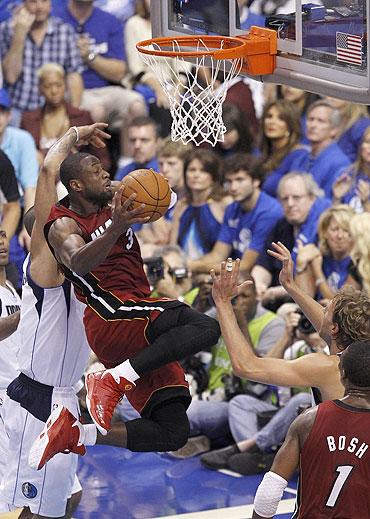 Dwyane Wade, who disappeared for much of the fourth quarter during Miami's 95-93 home loss in Game Two, had 29 points, 11 rebounds and three assists.
"I've been here before," said Wade, who had seven points in the final period. "My team mates said they wanted me to get the ball.
"Last game we kind of went away from getting me the ball down the stretch in spots where they have to double or I can get a shot off.
"Tonight I tried to be aggressive. I didn't shoot every time, I passed out to my team mates. This is a total win. We wanted to win the game on the defensive end of the floor and it came down to getting a stop (on Nowitzki)."
The Heat squandered a 15-point lead in the final six minutes of Thursday's game in Miami, giving the Mavericks the opportunity to win the series with three wins in Dallas.
TIME IS NOW
The Heat's victory deflated the boisterous American Airlines Arena crowd of 19,200 hungry to see the 30-year-old Mavericks franchise move closer to its first NBA crown.
Almost everyone donned an arena-supplied blue shirt that read "The Time is Now."
But it was the Heat players who seized the moment in the dying seconds.
Miami's LeBron James had 17 points but shot only six of 14 from the floor and had four turnovers.
The next two games of the series are in Dallas, with Game Four set for Tuesday.
Wade scored 19 points in the opening half on eight of 13 shooting as the Heat outplayed Dallas in almost every category yet only led 47-42 at the break.
Dallas shot just 39 percent before intermission but was able trim the Heat's 14-point lead with a late second-quarter surge.
Miami scored the first eight points of the third quarter to surge into a 55-42 lead but Dallas got back into the game when Nowitzki scored nine points during a 15-2 run to knot the score at 57-57.
This time, with the game tight in the final quarter, Wade wanted the ball in his hands.
"Tonight my number was called and I tried to help my team win," he said.