The Boston Celtics drew on their famous grit and determination to move within one victory of the NBA Finals on Tuesday with an upset 94-90 road win over the Miami Heat to take a 3-2 series lead.
The Celtics can now secure the best-of-seven Eastern Conference finals back home in Boston on Thursday after Miami's vaunted offense spluttered in the second half.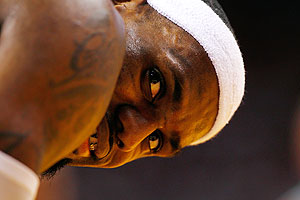 LeBron James scored 30 points and Dwyane Wade poured in 27 but the Heat now face the distinct possibility of missing out on the finals completely as they bid to make up for the disappointment of losing last year's title showdown.
Rajon Rondo was the architect of Miami's demise for Boston with 13 assists on a night where he shot only 3-of-15, while Kevin Garnett was the chief executioner with 26 points and 11 rebounds.
But above all, Boston were able to draw on their renowned fighting spirit once again as they fought back from a 13-point deficit in the second quarter and from nine points behind in the third.
Both times, Boston picked themselves up and dealt with the situation to secure a victory against the odds, despite shooting just 41 percent and getting out-rebounded by 49-39.
"We were just hanging in there," Celtics head coach Doc Rivers said.
"They jumped on us at the beginning of the game and we just told our guys 'don't over-react, hang in there, the longer we are in the game, the better we'll play'.
"I thought out execution down the stretch, defensively and offensively... was terrific," he added.
It was far from a classic encounter, however, with Miami shooting at 39 percent from the field and managing just 7-of-26 three-point attempts as defenses dominated.
The work was spread around for Boston with Ray Allen and Mickael Pietrus scoring 13 each and Brandon Bass chipping in with ten points.
The Heat, with Chris Bosh (nine points, seven rebounds) back from injury for the first time in the series, started brightly and led 24-16 at the end of a first quarter in which Rondo failed to score a point.
The lead was down to 42-40 at halftime, though, with Miami's offense running out of steam and that was a trend that continued in the third quarter as Boston, on the back of a 15-1 run, rushed into a 65-60 advantage.
Key to the change was the scheming role of Rondo, who shot just one-of-eight from the field in the first half but provided five assists in the third quarter, and the powerful play at the basket from Garnett.
The game's decisive moment came when Paul Pierce (19 points) nailed a three-pointer over James, who tallied 30 points for the ninth time this post-season, with 52.9 seconds remaining to give the visitors a 90-86 lead.
Photograph: Mike Ehrmann/Getty Images