National Basketball Association (NBA) player Raja Bell, of the Utah Jazz, will travel to India from July 12 to 17 to participate in a series of basketball events in Delhi to help grow basketball and the popularity of the NBA. 
Bell will be the 20th NBA/WNBA player or legend to travel to India to conduct basketball events since 2008.
Among his activities in India, Bell will attend the Junior NBA/Junior WNBA National Skills Challenge finals, train with India's senior men's national Basketball Team; conduct clinics for Mahindra NBA Challenge participants, the largest community league in India and interact with the league's growing fan base in the market.
Bell, undrafted out of college, became a key starter on the Phoenix Suns team that advanced to the Western Conference Finals in 2005-06 where he shared the backcourt with two-time NBA Most Valuable Player Steve Nash. In 2006-07, Bell was voted to the NBA All-Defensive first team and shared the NBA lead in three-pointers made with 205.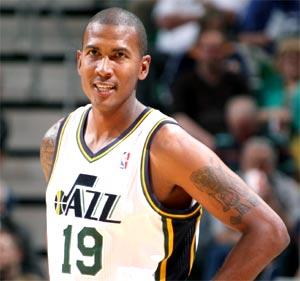 "As an international NBA player, I love what the NBA is doing in India to grow the game and I am looking forward to visiting the country for the first time," said Bell. "During my trip I will have the privilege of working with aspiring basketball players and hope one day to see an NBA player from India."
"Raja made his mark in the NBA through perseverance, strong defense and a team-first mentality that provides a great example to Indian youth that if you work hard you can achieve your goals," said Heidi Ueberroth, NBA President, International. "We are thrilled at the response we have received in India thus far and bringing over NBA players helps inspire young fans and is a great way to teach the game."
On July 14, Bell will attend the Jr. NBA/Jr. WNBA National Skills Challenge finals at the Thyagaraj stadium in New Delhi. The school-based program has taught basketball to approximately 10,000 students and 800 coaches in five Indian cities.
Bell will also conduct an NBA Cares clinic at Thyagaraj Stadium on July 14 in conjunction with Love in Action -- a Delhi-based NGO which uses the sport of basketball to provide life-skills education to children from slums in East Delhi.
 
On July 15, Bell will host a clinic for select Mahindra NBA Challenge participants at DPS Vasant Kunj and on July 16 and 17 he will train with India's Senior Men's and U18 Men's National Basketball teams at the Indira Gandhi stadium in Delhi.
The NBA, which opened its first office in Mumbai in October last year, has hosted more than 450 basketball development events in India since 2008 as part of the league's effort to grow basketball.