New York forward Carmelo Anthony posted a Knicks' and MadisonSquareGarden record 62 points on Friday as his team toppled the Charlotte Bobcats 125-96.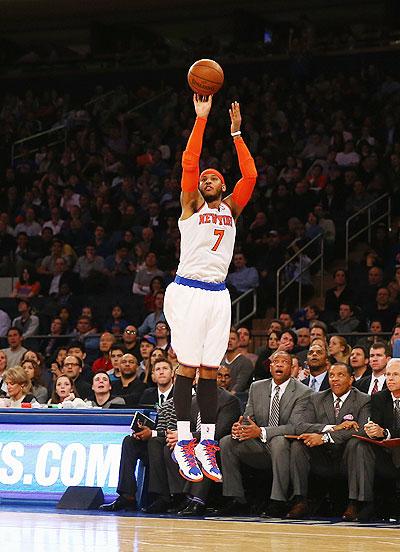 Anthony landed 23 of 35 field goals with six three pointers and was 10 from 10 from the free throw line to post the highest single player tally since Kobe Bryant notched 65 points in 2007.
He topped Bryant's MadisonSquareGarden record of 61 points set five years ago and beat Bernard King's Knicks' record of 60 points.
"I was just taking it one possession at a time," Anthony told reporters.
"I came into the game locked in. I didn't know I was going to have this type of performance. It's an unbelievable feeling.
"It's just a zone you get into sometimes. Only a certain group of people know what that zone feels like. Tonight was one of those zones. My teammates saw that.
"It didn't really sink in exactly what I did tonight. I know Bernard King is somewhere smiling at me right now."\
Image: Carmelo Anthony #7 of the New York Knicks shoots to score
Photograph: Al Bello/Getty Images