The sizzling hot Miami Heat and their Big Three of LeBron James, Dwyane Wade and Chris Bosh scorched the New York Knicks 113-91 for their 11th win in a row on Friday at Madison Square Garden in New York.
James, who spurned New York in signing as a free agent last summer with Miami, shrugged off hearty boos from a packed Garden crowd on his every touch of the ball to score 32 points, while Wade and Bosh both poured in 26.
Miami improved to 20-8 as James completed a triple-double by adding 11 rebounds and 10 assists, while New York dropped to 16-11, scoring just 34 points in the second half.
"When we play defense we're a really dangerous team," James told reporters. "Holding a very good offensive team down to 39 percent shooting was a great performance."
James put on a dazzling show at the Broadway arena, firing away from the perimeter, spinning to the hoop, slamming down dunks and making an array of no-look passes for assists against the hosts, who were overmatched after intermission.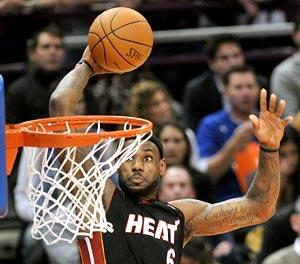 Knicks coach Mike D'Antoni tipped his cap to the Heat and said his team may have had "an emotional letdown" after ending their eight-game win streak on Wednesday with a two-point loss to Eastern Conference-leading Boston Celtics, who also came to the Garden after winning 10 straight.
While that game came down to the last tenth of a second and was taken by New York as a declaration they could compete with the top teams, the Knicks ran out of gas after battling back from a 13-point deficit to head to intermission tied 57-57.
DOMINANT RUN
Miami outscored the Knicks 33-17 in the third quarter to pull away and continue their recent run of dominance. All but one of their wins during the 11-game skein have been by double-digit margins.
New York's Amare Stoudemire, who had scored 30 or more points in each of the last nine games, had his team-record streak snapped as he posted 24 points while the Knicks were led by Danilo Gallinari with 25.
"It has been a long week," admitted Stoudemire.
Wade said the Heat were determined to step up their defensive effort in the second half.
"We were giving up too many easy points," said Wade. "So we packed the paint and made them take tough shots."
James and Wade are used to being treated as visiting villains, but the loud chants of "overrated, overrated" that serenaded Chris Bosh at the foul line only served to spur him on.
"I loved it," said Bosh. "It was a nice try. There was some added motivation to me. It gave me added incentive to be successful."