World tennis No 4 Rafael Nadal has pulled out of the Paris Masters and the ATP World Tour finals in London as he is still recovering from his left knee injury, the ATP said on Thursday.
The 11-times Grand-Slam singles champion has not played since he suffered a shock second-round loss to Czech Lukas Rosol at Wimbledon in June.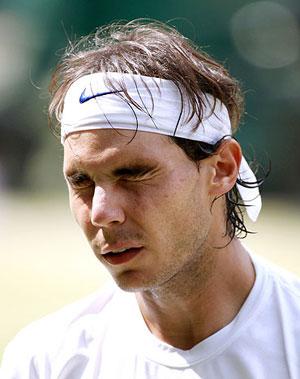 "It's disappointing for me to miss the last two tournaments of the season in Paris and London but it doesn't come as a surprise," the 26-year-old Spaniard was quoted as saying in a statement on the ATP website (www.atpworldtour.com).
"I will hopefully resume my tennis practice soon since I am making good progress with my recovery from injury. I am not ready to compete in time for these events so I will continue my recovery in Mallorca and work hard to be back as soon as possible."
Nadal, who has been battling knee problems for years, could also miss the Davis Cup final between his country, who are the defending champions, and Czech Republic in Prague from November 16 to 18.
With the Spaniard unable to play in the London finals, which will reunite the year's eight best players from November 5 to 12, the player ranked ninth in the world will get a berth. Serbian Janko Tipsarevic currently occupies the spot.
Nadal told Reuters in an interview last month that he would not rush back into playing before his injury had healed completely.
The Paris Masters begins on Monday.