Rafael Nadal has withdrawn from the U.S. Open due to injury, tournament organisers said on Wednesday.
The Spanish world number three has not played since suffering a shock second-round defeat at Wimbledon.
Nadal missed the London Olympics because of a recurrence of tendinitis in his knees and subsequently withdrew from ATP Tour events in Toronto and Cincinnati.
"Rafa has informed us that he will not be ready to compete at the U.S. Open this year and has withdrawn," U.S. Open tournament director David Brewer said in a statement on the event's website (www.usopen.org).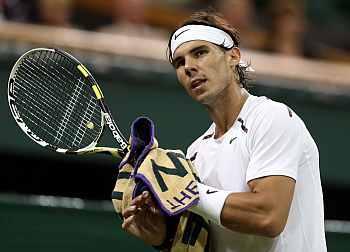 "We hope to see him back on the court soon and look forward to his return to New York next year.
"I am very sad to announce that I am still not ready to play," Nadal, the 2010 US Open champion, said.
"I am sorry since I always found great crowds and great support, but I have to continue with my recuperation and preparation to be ready to play in the right conditions."
The U.S. Open in New York runs from August 27 to September 9.
Photograph: Clive Rose/Getty Images