'When you ask permission to take something for therapeutic reasons and they give it to you, you're not taking anything prohibited'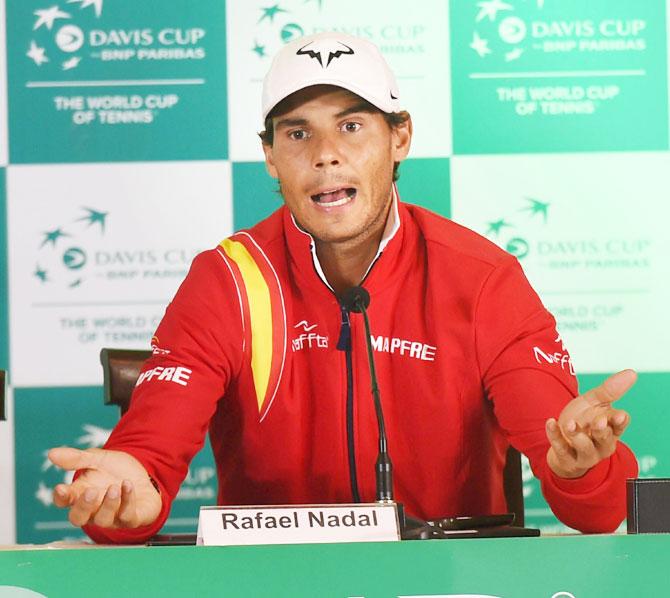 IMAGE: Spain's Rafael Nadal wants sport to be transparent, reiterates demand to publish all medical records. Photograph: Manvender Vas/PTI
Tennis World No 5 Rafael Nadal and Olympic champion Mo Farah have spoken in defence after Russian cyber espionage group Fancy Bears leaked their medical data on Monday.
- WADA leaks: Russian hackers publish medical data for Farah, Nadal
They are among more than 60 international athletes who have had their medical files -- mostly therapeutic use exemptions (TUEs) -- published online by Fancy Bears, who have hacked into World Anti-Doping Agency (WADA) records.
Spanish tennis ace Nadal and four-time Olympic champion distance runner Farah were shown to have used TUEs in the past to gain permission to take substances that figure on WADA's banned list.
TUEs can be issued to athletes who have an illness or condition that requires the use of normally prohibited medication.
"When you ask permission to take something for therapeutic reasons and they give it to you, you're not taking anything prohibited," Nadal, a 14-time Grand Slam winner, told Spanish media.
"It's not news, it's just inflammatory."
Nadal, who has twice been granted a TUE, said he had never taken anything to improve his performance but took what doctors advised him was the best medication to care for his troublesome knee.
Far from complaining about the leak of his files Nadal said he would support the publishing of all medical records.
"It would be much more beneficial for sportsmen and women, spectators and media that every time a drug test is taken the news is made public and two weeks later there are the results," he added.
"This would end the problem. Sport has to take a step forward and be totally transparent. I have been saying this for years."
Documents relating to Farah, and published on the fancybear.net website, showed that the distance runner had no active Therapeutic Use Exemptions (TUEs) at the time of the Olympics.
A spokesperson for Farah said: "As Mo has previously stated, he has got nothing to hide and doesn't have a problem with this or any of his (medical) information being released -- as evidenced by the fact that he voluntarily shared his blood data with the Sunday Times last year.
"Mo's medical care is overseen at all times by British Athletics and over the course of his long career he has only ever had two TUEs."
Nadal and Farah were among 26 athletes in Monday's fourth batch to have their medical history published by Fancy Bears, following the likes of Serena and Venus Williams, American gymnast Simone Biles and British Tour de France-winning cyclists Bradley Wiggins and Chris Froome.