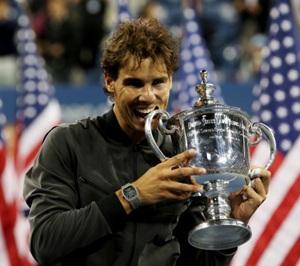 Rafael Nadal captured his second US Open title when he beat top-seeded Novak Djokovic 6-2, 3-6, 6-4, 6-1 in Monday's final.
The win gave the second seeded Nadal, this year's French Open champion, his 13th Grand Slam title and first at Flushing Meadows since 2010.
- PHOTOS: For ever-smiling Paes age is just a number
The victory improved his career total to 13 Grand Slam wins, moving him one ahead of Australian Roy Emerson into third on the all-time list behind Roger Federer (17) and Pete Sampras (14).
Nadal, who won the 2010 US Open in the final against Djokovic and then lost their final re-match in 2011, improved his hardcourt record to 22-0 this year and his overall match record to a sensational 60-3.
Image: Rafael Nadal with the US Open trophy
Photograph: Matthew Stockman/Getty Images