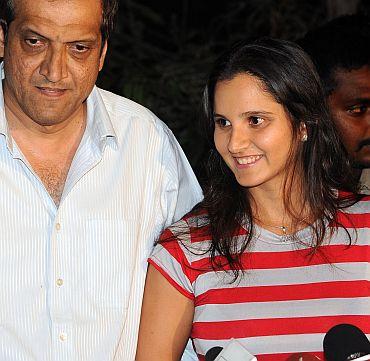 Indian tennis star Sania Mirza on Tuesday, announced that she will marry Pakistani cricketer Shoaib Malik in Hyderabad on April 15, but made it clear that the marriage of an Indian and a Pakistani sports star is not a "political statement".
Addressing her first press conference since the news broke about her engagement with Shoaib Malik broke on Monday, Sania said that both the families are very happy. "You can not ask for any thing more," she said.
Sania's father Imran Mirza said that the Nikaah ceremony will be held in Hyderabad on April 15 and Walima (reception) will be hosted in Lahore, Shoaib's home town.
Sania said that she will continue to play even after her marriage and will think of children only after playing the 2012 Olympics. "I'm yet to marry and here you are asking about my children," said Sania.
She revealed that she will settle in Dubai after the marriage. "Dubai has always been a second home to me. I will miss my parents, but it is only a three hours flight away."
She said that this was the right time for her to marry as she was nursing injuries. "I have lot of free time on my hands, I guess," she said.
"I will keep playing for India and he will inshallah play for Pakistan," she said.
When asked whom she will support in an India Pakistan match, she said "I will support India but I will also support my husband."
When quizzed about the tensions between the two nations and her marriage, Sania said, "I think we are getting married.  We are not making any statement politically. It is simple, the way you will marry, I'm also getting married.
On such a happy occasion, carrying sweets in your hands you should not talk like this. You should be happy that I am getting married," she said.
On being asked whether their marriage will help in improving the relations between India and Pakistan, Sania said, "Is that what we are really looking at or we are getting married? Not really, we are getting married, that is it. That is period. That is the only thing on our minds right now."
When asked about the recent controversy over Shoaib's marriage to another Hyderabadi girl, Ayesha Siddiqui, and whether it is on her mind, Sania said, "No. Of course not. Otherwise I won't be standing here and telling you I am getting married to him.
"I have always lived in the present and so has he. So we all made a decision to live in the present and we are all very happy with what is going on."
Image: Sania Mirza with father Imran Mirza speaking to mediapersons in Hyderabad on Tuesday evening
Photograph: Mohammed Abdul Haq